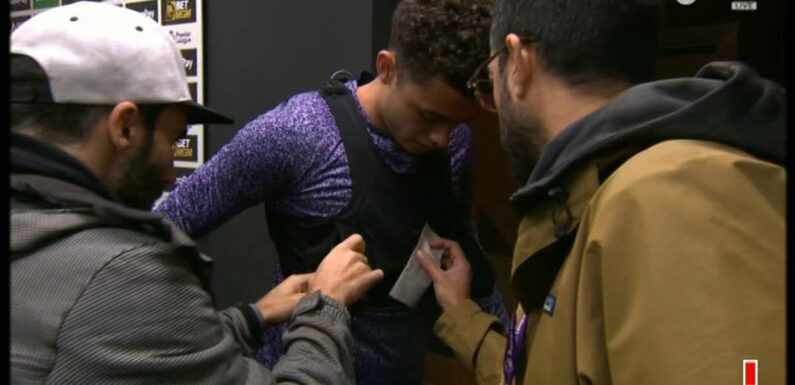 Tottenham's Brennan Johnson and Max Kilman of Wolves become the first Premier League players to don body cameras during their warm-ups as TNT trial groundbreaking technology
The pair took fans through their warm-ups ahead of 12.30pm Saturday kick-off 
Tottenham's Brennan Johnson and Max Kilman of Wolves are the first players in the Premier League to don body cameras as they run through their pre-match warm-ups at Molineux. 
IFAB laws do not allow for the technology to be used in competitive matches, but TNT Sports – who struck a deal with the Premier League to greenlight the tech – hope Saturday's trial during the warm-up offers viewers a unique perspective, with footage uploaded from the player's bodycam instantaneously for broadcast. 
Johnson and Kilman got the nod to trial the technology on Saturday morning, and took viewers through their preparations ahead of kick-off. 
Footage broadcasted showed players completing passing drills, interacting with team-mates, and taking instructions from their coaches before heading back into the tunnel.  
'It just give a new generation of fans an insight into how warm-ups work,' said pundit Joleon Lescott on TNT. 
Wolves' Max Kilman (left) and Spurs' Brennan Johnson were the first players to trial bodycams
The Tottenham star was filmed being wired up the technology before heading onto the pitch
The footage gives viewers a unique look into how preparations pre-match are carried out
Your browser does not support iframes.
But for the former Manchester City man was a little hesitant about the technology being used in a matchday situation. 
'I wouldn't have worn that it would have been a distraction for me,' the ex-player added. 'Not necessarily in training but I wouldn't have worn them in games. 
'Maybe it's superstition – I got injured twice when I had one on – so I would have said "no way."'
Joe Cole was more enthuastic, saying the footage looked like 'being behind the eyes of the player'.  
On Thursday, Mail Sport reported exclusively on the trial run of the apparatus, which was created by Mindfly. 
The Israeli start-up company behind the bodycams created a special AI-powered stabilisation bodycam, which is attached to an 'ultralight' vest.
The miniscule camera is stitched to a GPS vest under the shirt, with a small hole cut in the jersey at chest level to give the lens sight of the game.
Johnson shared footage of Spurs completing group drills ahead of the 12.30pm kick-off
The cams are even wired for found, and can transmit footage including audio of player conversations whilst carrying out drills 
It takes around two minutes to get players wired up and ready to go.
A wide angle view of the pitch is captured and later cropped using AI auto-detection to hone in on the action. The bodycam also uses SteadiCam stablisation technology to ensure smooth footage fit for broadcast.
The camera has a shatter-proof screen and is so lightweight to the point of being marketed as 'invisible'.
Previously, Sky Sports have used body cameras from a different system in pre-match situations on two occassions last season, one involving Brentford in a match against Bournemouth and another involving Brighton, when they took on Manchester United.
IT'S ALL KICKING OFF! 
It's All Kicking Off is an exciting new podcast from Mail Sport that promises a different take on Premier League football, launching with a preview show today and every week this season.
It is available on MailOnline, Mail+, YouTube , Apple Music and Spotify
Your browser does not support iframes.
Source: Read Full Article