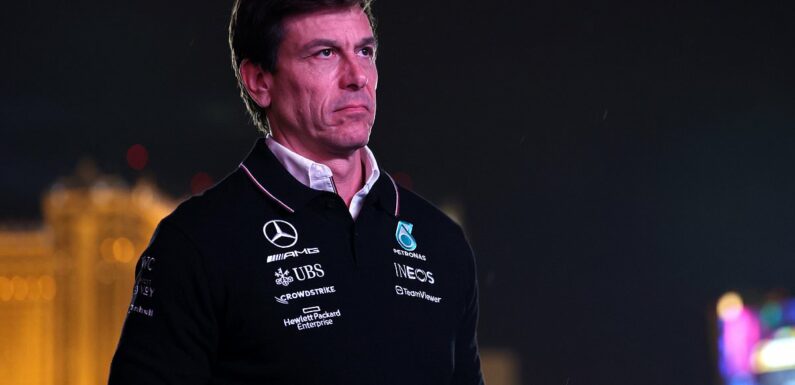 Toto Wolff unleashes furious tirade against critics of the Las Vegas Grand Prix, insisting drain cover farce – which caused first practice to be CANCELLED – was 'not a black eye' for F1 and people need to stop moaning!
READ: Las Vegas Grand Prix first practice is CANCELLED after just eight minutes 
Mercedes Team Principal Toto Wolff passionately defended the GP's organisers
Fans were quick to criticise Wolff for what many saw as an 'embarrassing' take 
Mercedes boss Toto Wolff went off on critics of the Las Vegas Grand Prix after a loose drain cover caused first practice to be cancelled just eights minutes in.
A red flag was thrown by the race director after Esteban Ocon's Alpine and then Carlos Sainz's Ferrari suffered significant damage, with sparks flying, having run over the damaged part of the track, and practice did not resume.
There were boos from fans in attendance and many dissenting voices slammed F1 for an embarrassing night in Sin City – but Wolff was in no mood to listen to disparaging takes on the set-up in Vegas. 
'That is not a black eye,' Wolff said. 'This is nothing!'
Wolff wasn't done: 'It's completely ridiculous! Completely ridiculous, FP1, how can you even dare try to talk bad about an event that sets the new standards to everything? And then you're speaking about a f***ing drain cover that's been undone. That has happened before! That's nothing, it's FP1!'
Toto Wolff was in no mood to entertain conversation criticising organisers of the Las Vegas GP
Only five laps were completed in front of the crowds in Vegas before things were halted 
A loose drain cover saw the first practice of the Vegas Grand Prix called off in eight minutes
Ferrari were furious at the 'unacceptable' situation, with team boss Fred Vasseur exploding that Sainz was left 'f***ed' by the situation. He will not be involved in second practice.
But Wolff was clearly irked by the negativity in the post-first practice press conference with team bosses, going back at reporters who questioned if this was an embarrassing look for the sport. 
'Give credit to the people that have set up this Grand Prix, that have made this sport much bigger than it ever was. Have you ever spoken good about someone and written a good word?' the Mercedes boss said.
'You should about all these people that have been out here. 
'Liberty has done an awesome job and just because in FP1 a drain cover has become undone, we shouldn't be moaning.
'The car is broken, that's really a shame. For Carlos, it could have been dangerous. So between the FIA and the track and everybody needs to analyse how we can make sure that this is not happening again. 
'But talking here about the black eye for the sport on a Thursday evening, nobody watches that in European time anyway!'
Ferrari technicians inspect Sainz's car for damage after the vehicle was lifted back to the pits
Sainz's Ferrari is removed from the track by a crane after going over the cover 
A furious Ferrari team principal, Vasseur, said: 'The situation is that we damaged completely the monocoque, the engine, the battery. I think it's just unacceptable.
'We had a very tough one. This will cost us a fortune. 
'We f**ked up the session for Carlos. We won't be part of the FP2 for sure, we have to change the chassis.
'Okay, the show is the show and everything is going well but I think it is just unacceptable for F1 today.'
Second practice is due to start at 2am local time in Las Vegas but Sainz will be nothing more than a spectator after the fiasco of first practice. 
Source: Read Full Article