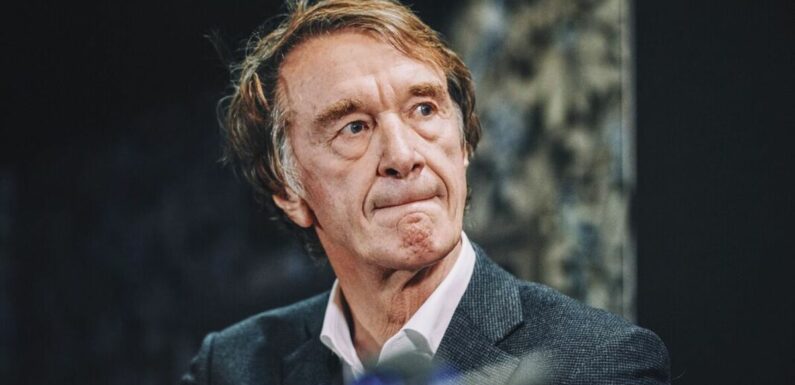 Manchester United bidder Sir Jim Ratcliffe is reportedly set to demand that Erik ten Hag reaches an olive branch out to outcast winger Jadon Sancho. The United forward has been exiled from the Red Devils first-team squad since September after a falling-out with Ten Hag.
Ratcliffe is widely expected to have his £1.4billion bid for 25 per-cent of United ratified in the coming weeks. The petrochemicals billionaire will reportedly oversee a sweeping overhaul of the sporting department of the Premier League club.
One of Ratcliffe's first tasks could be to resolve the future of Sancho. The 23-year-old publicly hit back at Ten Hag in September when he was accused of not training to a sufficient standard, only to then be removed from the senior set-up at Old Trafford.
Ten Hag demanded that the England star apologise but it is claimed that little remorse was forthcoming. Sancho has since conducted his duties away from his first-team colleagues at the club's Carrington training base, and Ten Hag reportedly believes that any apology would now be insincere.
READ MORE: Man Utd 'could help' Prem rivals sign ex-Chelsea star by sending Sancho to Juve[LATEST]
However, the Daily Star reports that Ratcliffe will 'order' Ten Hag to make up with Sancho. The 71-year-old, whose bid is being made through his company INEOS, is concerned that United have an expensive player exiled from the first-team.
Sancho cost United nearly £70m in 2021 but has struggled under Ten Hag and the pair have barely spoken since their feud. Twelve months ago, the Dutchman gave the former Borussia Dortmund starlet time away from the club to focus on rebuilding his confidence and form.
He returned after the World Cup but has failed to find the consistency that made him one of Europe's brightest prospects during his time in Germany. Sancho has scored just 12 times in 82 appearances and has already been strongly linked with an exit amid his uncertain situation at Old Trafford.
Support fearless journalism
Read The Daily Express online, advert free
Get super-fast page loading
DON'T MISS…
Man Utd 'conceding defeat' over Andre Onana but all is not lost for Erik ten Hag[MAN UTD]
Man Utd hero Saha claims Varane now being 'scapegoated' after Sancho saga[QUOTES]
Getafe 'very happy' with Mason Greenwood as Man Utd loanee shines in Spain[TRANSFERS]
The Daily Telegraph reports that the Saudi Pro League is lining up a move for the United outcast. However, Sancho rejected a move to Saudi Arabia towards the end of the summer transfer window and could do so again in January.
Ratcliffe will hope to persuade Sancho to stay. The winger's talent remains evident and he is a valuable asset to the club. The longer he remains absent from the United squad, Ratcliffe is aware that his value is depreciating.
Sancho has played just three Premier League games this season. Those appearances have amounted to just 76 minutes on the pitch.
Get every single Sky Sports channel with Sky Stream, Netflix and Sky TV for £46 a month.
You can enjoy all the best Sky has to offer without needing a satellite connection.
Sky Sports also offers all live events from the Premier League and the F1 and more.
If you're already with Sky, you can get the full Sky Sports experience for £22 a month.
You get all the channels you'll ever need for £18 a month in time for all the top matches to take place in 2023.
If you need a brand new TV and want to watch the best sporting events around on it, Sky is offering a deal where you get Sky Glass, Sky Sports, Sky TV and Netflix for just £34 a month.
Source: Read Full Article