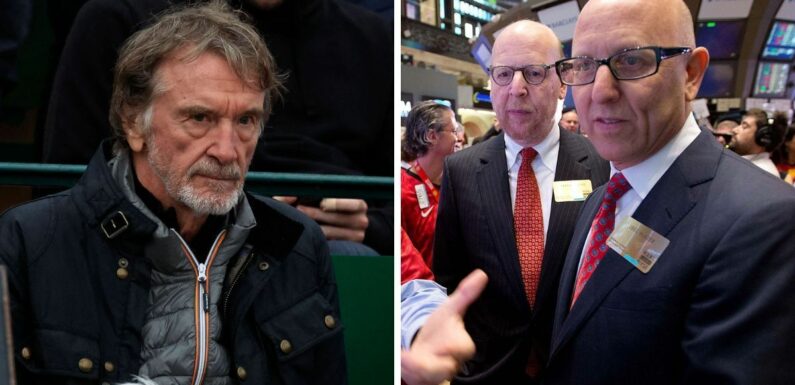 Man Utd considering five-man forwards as rivals eye Sancho
Sir Jim Ratcliffe may have to wait 10 years before completing his mission to overthrow the Glazer family as Manchester United owners, according to a football finance expert. Ratcliffe is set to purchase a 25 per cent stake in United, leaving many supporters hoping for a full sale bitterly disappointed after a frustrating 11-month process.
The INEOS CEO, who turns 71 on Wednesday, has reached a £1.3billion agreement with the Glazers after Qatari royal Sheikh Jassim bin Hamad Al Thani withdrew from the takeover picture last week.
United's 12 board members will vote to ratify Ratcliffe's 25 per cent stake in a meeting on Thursday. The deal could then take up to two months to go through.
INEOS are expected to inherit total control over sporting decisions at Old Trafford, which may lead to a shake-up of the football department that operates closely with Erik ten Hag.
Ratcliffe is reportedly eyeing eventual full control by buying out the Glazers' remaining shares as part of a phased takeover.
However, football finance expert Rob Wilson has suggested there may not be any major developments in the near future.
Click here to join our Man Utd WhatsApp community to be the first to receive breaking and exclusive F1 news.
READ MORE Tottenham 'discover' whether sponsorship will be scrapped after Man Utd buy-out[NEWS]
He told Saxo: "The Ratcliffe bid comes down to the basics of finance.
"The Glazers clearly want more than the perceived market value of Manchester United football club, and it presents the idea that Sheikh Jassim's bid was undervaluing the organisation.
"The Ratcliffe bid allows Jim to have a smaller investment at this stage and then look at using his knowledge investment to see where the club can go in the next five years, and I imagine he will then be able to take a bigger stake as things unfold.
"The reality is that the Sir Jim, INEOS bid will start with 25 per cent and then will look to increase over the next five to 10 years depending on what the Glazers decide to do with the asset.
We use your sign-up to provide content in ways you've consented to and to improve our understanding of you. This may include adverts from us and 3rd parties based on our understanding. You can unsubscribe at any time. More info
DON'T MISS
Man Utd issued first rejection before Sir Jim Ratcliffe meeting in bitter blow[NEWS]
Man Utd takeover agreement has knock-on effect for Erik ten Hag transfer plans[TAKEOVER]
Man Utd boss Erik ten Hag to give Jim Ratcliffe's plan his 'seal of approval'[LATEST]
"A lot will also depend on the sporting and financial performance of the organisation and requirements for any stadium, redesign, maintenance or re-development."
United fans have protested against the Glazer family's ownership since their controversial 2005 takeover worth less than £1bn.
And they intensified outrage among the fanbase by rejecting Sheikh Jassim's £5bn offer for 100 per cent, despite it almost doubling the club's £2.6bn market value.
Ratcliffe will be aware that the toxicity won't disappear but will worsen the longer he waits to remove the Glazers from Old Trafford.
Source: Read Full Article