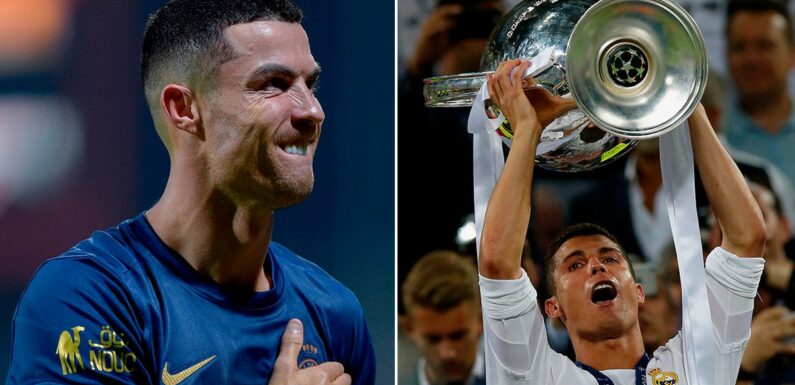 UEFA are reportedly considering 'inviting' Cristiano Ronaldo's Saudi Pro League side Al-Nassr to play in the Champions League next season.
In January this year, you would be forgiven for believing that the Champions League's most prolific player of all-time would have played his final game in the tournament as he headed outside of Europe for the first time in his career.
However, in a bizarre turn of events, it's said that Ronaldo could return on Tuesday and Wednesday night TV sets and offered the chance to add to his record 141 tournament goals again next season, despite playing in the Middle East.
READ MORE: Meet Leon Cooperman – billionaire 'buying 1m Man Utd shares' who's rich enough to own Spurs
READ MORE: VAR audio released for Newcastle's controversial winning goal vs Arsenal
That's because Saudi journalist AlHarbi44 claimed on Twitter that UEFA intends to invite Al-Nassr to participate in the Champions League in 2024. He cited the recent is apparently due to the 1995 AFC Champions League runners-up being considered as 'one of the three most famous clubs in football', and due to Al-Nassr having 'great popularity' in Europe.
It's unclear whether this apparent invite is extended to only Al-Nassr or whether it could be offered to the team who wins the Saudi Pro League – with current table topper Al-Hilal four points clear of Ronaldo, Sadio Mane, Aymeric Laporte and co at the top.
Do you think a Saudi Arabian side will ever play in the Champions League? Let us know in the comments section.
Should Al-Nassr compete in the Champions League next season, it would be the first time that a club outside of UEFA have featured in the competition's history. It would also coincide with the revamp of the tournament – expanding to 36 teams from 32.
The competition will look very different next season, with the eight group format being changed to one big league. The top eight of the table will go directly through to the round of 16, while the sides who finished from ninth to 24th will enter a playoff to win one of the remaining eight places in the round of 16. Those clubs who finish from 25th to 36th will be eliminated from Europe with none dropping into the Europa League.
Source: Read Full Article