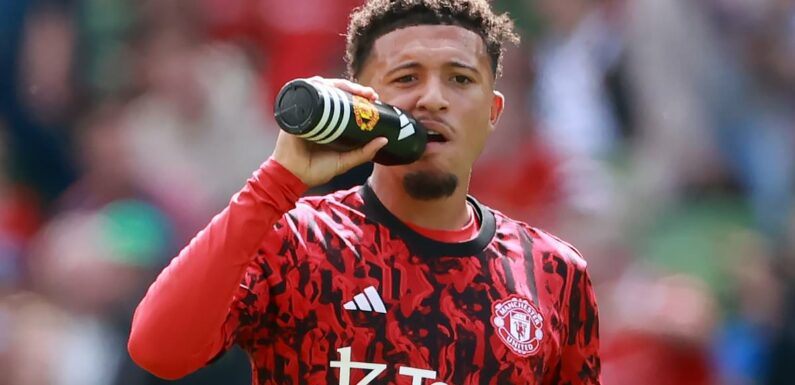 Erik ten Hag used his 'last chance' to get the best out of Jadon Sancho, says Rio Ferdinand as he questions whether the Manchester United manager understood the 'risk' in publicly criticising the unruly talent
Rio Ferdinand has questioned Manchester United's handling of Jadon Sancho
The Englishman was publicly criticised by Red Devils boss Erik ten Hag
Sancho insisted he was being made a 'scapegoat' in a social media post
Listen to the latest episode of Mail Sport's podcast It's All Kicking Off!
Rio Ferdinand has weighed in on Jadon Sancho's situation at Manchester United and believes Erik ten Hag publicly scolded the underperforming winger because he felt it was his 'last chance' to get a positive reaction out of the star.
United manager Ten Hag criticised Sancho for failing to meet the required standard in training as he explained the decision to omit the 23-year-old from his matchday squad in a recent Premier League defeat against Arsenal.
The players responded by labelling himself as a 'scapegoat' in a social media post that has now been deleted, however, Sancho has subsequently been excluded from first-team training while the club discuss next steps to rectify the broken relationship.
Ferdinand would have seen his fair share of player-manager bust-ups during his established 12-year career at Old Trafford but questioned whether Ten Hag understood the risk in going public with his criticism. 
'Is it a personal thing between the manager and player? Or is he genuinely not training the way he wants him to train? Jadon would say and agree he hasn't lived up to the hype yet, and the fee,' said Ferdinand on his Five YouTube channel.
Rio Ferdinand has questioned Manchester United's disciplinary handling of Jadon Sancho
United boss Erik ten Hag (left) publicly criticised Sancho (right) for his performance levels in training
Your browser does not support iframes.
'The manager has gone 'this is my last chance', I can't get anything else out of him so I'll make it public and see if that public embarrassment and his pride gets pressed enough and he comes back with a performance. 
'He did it to Rashford. He was the talisman at the time, he was on fire, he was on the top of his game… in terms of ego and pride and then more pressure. 
'I just think there have been players asked questions publicly or subliminally. I think the manager going public with Jadon was a big call and did the manager understand the risk with that?,' he added.
Mail Sport previously revealed there have been repetitive issues concerning Sancho's time-keeping and regular lateness to training sessions at the club.
Ten Hag (left) and Sancho (right) have so far failed to rectify their differences
Ferdinand (pictured) believes Ten Hag has used his 'last chance' to get the best out of Sancho
England staff also previously noted similar issues with the former Borussia Dortmund player and were concerned with his reaction to being dropped from the national team starting side.
Sancho has cut a lowkey figure since the incident but was pictured attending one of United's academy games as a spectator over the weekend while the senior team were hammered 3-1 by Brighton at Old Trafford.
He has been included in United's 25-man Champions League squad ahead of Europe's premier cup competition getting underway on Tuesday, but isn't expected to be included in the matchday squad for Wednesday's clash with Bayern Munich.
Ten Hag is expected to answer further questions over the player's future at the club during his pre-match press conference on Thursday. 
IT'S ALL KICKING OFF! 
It's All Kicking Off is an exciting new podcast from Mail Sport that promises a different take on Premier League football.
It is available on MailOnline, Mail+, YouTube, Apple Music and Spotify.
Your browser does not support iframes.

Source: Read Full Article