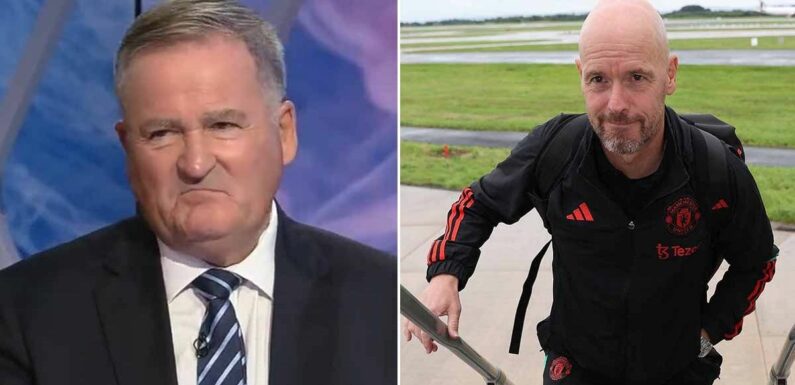 Richard Keys wasted little time in slamming Manchester United boss Erik ten Hag for not attending the funeral of Sir Bobby Charlton.
The current Red Devils boss was not at the Manchester Cathedral ceremony on Monday held three weeks after his passing at the age of 86 which has been mourned by the wider football community.
Ten Hag, 53, had an 'unbreakable and longstanding personal commitment in the Netherlands' which was given as the reason for his absence by the club – but that wasn't accepted by former Sky Sports presenter Keys who now works in Qatar.
EXCLUSIVE: Sir Bobby Charlton's funeral has Man Utd legends lining streets with mourners
READ MORE: Bryan Robson recalls touching Sir Bobby Charlton moment at icon's funeral
He wrote on X: "I don't care what it is that ten Hag claims was 'an unbreakable commitment' in Holland – there is no way that he should've missed Sir Bobby Charlton's funeral.
"It's a disgrace. There would be no Utd without the likes of Sir Bob. RIP. And thank you for what you gave to all of us."
Sir Alex Ferguson was among the attendees as were Roy Keane, Prince William and Gareth Southgate with four current United players also there.
Luke Shaw, Harry Maguire, Jonny Evans and Tom Heaton were joined by former players in the form of Ryan Giggs, Paul Scholes and others.
Fans gave a tribute of their own at Old Trafford with thousands giving the United and England icon one last cheer at the stadium which includes a statue and stand in tribute to the icon.
Charlton passed away at the age of 86 last month following a battle with dementia. He will be remembered as one of the greatest players this country has ever seen.
Ten Hag had said of his passing: "He is a huge inspiration for us every day.
"He is in front of Old Trafford, with Denis Law and George Best [in the statue]. He is always with us."
Premier League clubs wore black armbands and took part in moments of reflection, with flags and banners spotted inside and outside the ground.
Source: Read Full Article