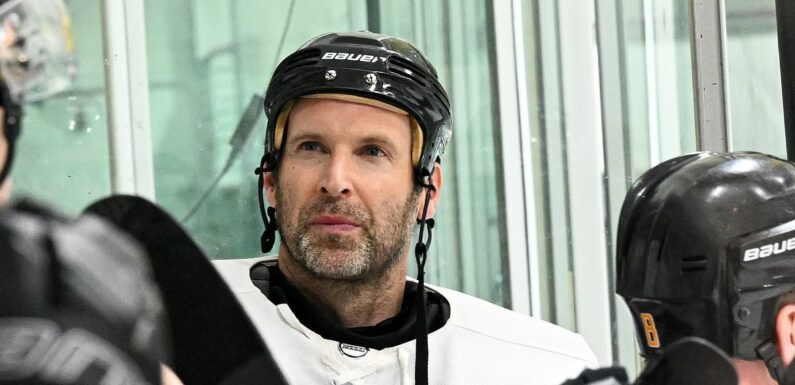 Premier League goalkeeping legend Petr Cech joins ice hockey's Belfast Giants in his post-retirement career – and Matt Petgrave's Sheffield Steelers are his first opponents
Petr Cech has ventured into ice hocking since his retirement back in 2019 
The Czech former goalkeeper has had spells at four side in as many years now 
Pochettino acted like he was denied entry to a nightclub – It's All Kicking Off 
Petr Cech has sealed a move to Ice Hockey's Elite League after agreeing a loan deal to the Elite Ice Hockey League's Belfast Giants from Oxford City Stars. 
Cech is arguably the greatest ever goalkeeper in the Premier League era, holding the record for the most clean sheets, winning four league titles and being voted into the Hall of Fame. 
He endured the greatest portion of his success at Chelsea, before later sealing a loan move to Arsenal, spending four years in north London before finally hanging up his gloves in 2019. 
However, since that point he has continued his career in top level sport by taking up ice hockey. 
Ice hockey is the principal sport of the Czech Republic, Cech's home country, with football being a close rival, and the Premier League legend has returned to his goalkeeping home on the ice.
Former Premier League legend Petr Cech has sealed a loan move from the Oxford City Stars to the Belfast Giants in the Elite Ice Hockey League
Cech is currently at the Oxford City Stars and has gone out on loan to Northern Ireland 
The former goalkeeper has previously had stints at the Guildford Phoenix and the Chelmsford Chieftains (pictured here)
Your browser does not support iframes.
'Petr is a highly decorated athlete, who knows what it takes to perform at the highest level,' said Belfast Giants coach Adam Keefe.
'We're very appreciative of the support of both the Oxford City Stars and Petr himself.
'His support during this loan period will be invaluable.'
Cech guested for the Giants earlier this year, appearing in a charity game against Ukrainian side Dnipro Kherson back in April.
The game raised some £65,000 to raise money for the continuation of the sport in Ukraine, currently afflicted by a war with Russia. 
After first retiring, Cech took up a goaltender role at the Guildford Phoenix (2019-22), the Chelmsford Chieftains (2022-23) and the Oxford City Stars (2023-) with the loan to Belfast his fourth different club in as many years. 
The Giants are next in action against the Sheffield Steelers, against whom Nottingham Panthers star Adam Johnson lost his life after his throat was slashed by an ice skate following a collision with Matt Petgrave.
An arrest was made by police on suspicion of manslaughter earlier this week, only to be released on police bail on Wednesday according to Sky reports, after 'extensive enquiries' from the police in the wake of the tragic incident. 
Cech (pictured centre front row, lying down) was previously in Belfast as a guest player to raise money for keeping ice hockey going in Ukraine
Matt Petgrave, pictured while playing for the Utica Comets, was involved in a collision with Johnson on the ice during the match in Sheffield last month 
Hundreds of floral tributes have been left at Nottingham's Motorpoint Arena over the past few days
Fans gathered to sign a book of condolences for Johnson's family in the wake of the tragedy
IT'S ALL KICKING OFF! 
It's All Kicking Off is an exciting new podcast from Mail Sport that promises a different take on Premier League football.
It is available on MailOnline, Mail+, YouTube, Apple Music and Spotify.
Your browser does not support iframes.

Source: Read Full Article