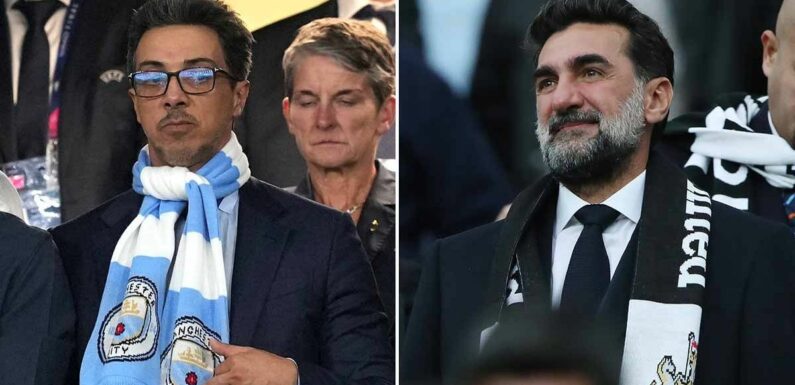 Premier League sides will vote on a vital proposal that could ban temporary loans on players between associated clubs.
The vote will occur at the next shareholders' meeting and if passed, will be in effect for the upcoming January transfer window, The Athletic reports. The decision for the proposal – which will be voted on November 21 – is to protect the integrity of the Premier League which will use the time to decide on a solution more long-term.
It could have devastating consequences for Newcastle who've been reported to have interest in Al Hilal midfielder Ruben Neves. Both clubs are majority-owned by Saudi Arabia's Public Investment Fund (PIF) which would prevent the ex-Wolves talisman from re-joining the English top-flight.
READ MORE: Man Utd 'will be limited to loans or cheap deals in January' despite imminent investment
READ MORE: 'I'm ex-Chelsea star whose dad got kidnapped – Abramovich offered to send his people over'
Other Premier League clubs that would be affected are Manchester City and Chelsea. The reigning league champions are owned by City Football Group who own the likes of La Liga's Girona, New York City of the MLS, and CSL side Yokohama F. Marinos. While Chelsea co-owner Todd Boehly also owns Ligue 1 outfit Strasbourg.
In order for the temporary regulation to be adopted, the vote will require at least a two-thirds majority (14 clubs). At this moment, Premier League players who are sold in one window and the team they join agree to a loan or permanent move back to the division with a team that is operating under the same ownership is able to happen.
Will enough Premier League clubs successfully ban on loan deals between associated clubs? Let us know your thoughts in the comments section below
Newcastle's reported interest in Neves has come as a result of the 10-month suspension handed to Sandro Tonali for breaching rules on gambling. The Premier League has defined a related party as having "material influence over the club or (being) an entity in the same group of companies as the club". Their judgement of the particular party relates to the "substance of the relationship and not merely the legal form".
Newcastle will no doubt be entering the January transfer window after suffering with seven first-team injuries including the likes of Alexander Isak, Dan Burn and Sven Botman.
Source: Read Full Article