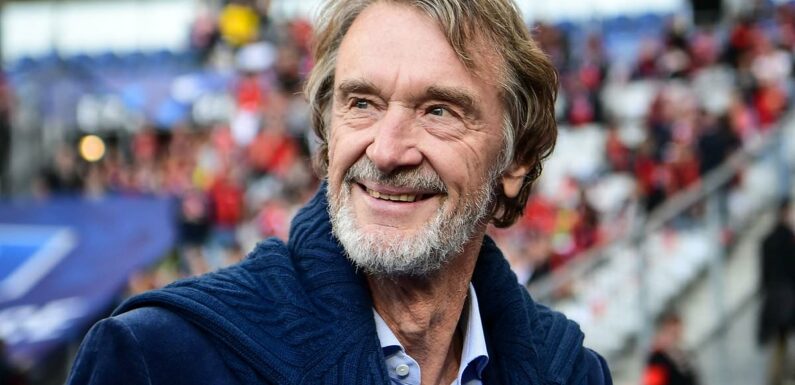 Patrick Vieira reveals what it's REALLY like working under Sir Jim Ratcliffe, who sacked him in 2020, in warning to Erik ten Hag ahead of £1.4bn Man United arrival
Sir Jim Ratcliffe has agreed to buy 25 percent of Manchester United 
Patrick Vieira worked under Ratcliffe at Nice for just over a season
Listen to the latest episode of Mail Sport's podcast 'It's All Kicking Off!' 
Patrick Vieira believes Erik ten Hag will enjoy working under Sir Jim Ratcliffe as he praised the soon-to-be Manchester United minority stakeholder.
The petrochemicals billionaire, a boyhood United fan, is on the verge of completing a deal to buy a 25 percent stake in the club for about £1.4billion.
The INEOS boss initially lodged a bid for a majority stake in the club when the Glazers announced last November that they were open to investment or a full sale.
But after a prolonged impasse, Ratfcliffe submitted an adjusted offer for a minority stake in the club in the first step in what is being viewed as a staged buyout.
As part of the proposal, which could be ratified at a board meeting on Thursday, Ratcliffe's group will take control of the football side at Old Trafford with a mission to reverse a decade-long decline on the pitch.
Patrick Vieira believes Erik ten Hag will enjoy working under Sir Jim Ratcliffe
Ratcliffe is close to agreeing a £1.4bn deal to take over 25 percent of Manchester United
Vieira worked under Ratcliffe for just over a season at Ligue 1 club Nice, before being sacked
Your browser does not support iframes.
And Vieira, who worked with Ratcliffe at Nice, believes that is good news for United. 
'He'd never interfere with my work,' the former Arsenal midfielder told FourFourTwo magazine earlier this year.
'We'd talk about football when we met, about the team and our lives, but he's not an owner who will get involved too much and prevent the manager from doing his job.
'His ambitions and expectations are high, so you know where you stand, but you can do your job freely.' 
Ratcliffe acquired Nice in July 2019 after the club finished seventh in Ligue 1 in Vieira's first season in charge.
The Frenchman led the club to fifth place in the following season, but was relieved of his duties in December 2020 after a run of five consecutive defeats in all competitions.
A major overhaul of football operations is expected at Old Trafford, with former Monaco sporting director Paul Mitchell considered the leading candidate to reshape recruitment at United.
According to talkSPORT, the 42-year-old has been earmarked for the role at Old Trafford after leaving Monaco in the summer after three years.
Paul Mitchell, who previously worked at Southampton, Spurs and RB Leipzig, is considered a leading candidate to overhaul United's recruitment 
Ratcliffe works closely on his sporting projects with former Team Sky chief Dave Brailsford (centre) 
Mitchell has a long history in recruitment and has previously worked Southampton, Tottenham Hotspur and RB Leipzig.
While at Spurs, he was part of the team that helped to bring in Son Heung-min and Toby Alderweireld among others and helped Southampton sign Sadio Mane in 2014.
During his spell at RB Leipzig, he brought in current Chelsea striker Christopher Nkunku.
Mail Sport's Mike Keegan revealed on Monday that a number of executives could be shown the door at Old Trafford, with Ratcliffe expected to appoint his own staff. 
Speaking on the latest episode of Mail Sport's It's All Kicking Off podcast, Keegan said United's CEO Richard Arnold and football director John Murtough will be seriously concerned about their jobs.
'There is a belief that Sir Jim Ratcliffe's team have their expertise there, they have a plan for what they want to do and people ready to come in,' he said.
'So if it is the football operation, I'd have thought people like John Murtough and Richard Arnold will be looking over their shoulders.'
United CEO Richard Arnold and others may be worried about their positions as the new investment and ownership comes in
Keegan added that while Ratcliffe and his team will want to make their mark at Old Trafford, fans shouldn't expect a huge spend on new players in the January transfer window.
'There will have to be something for the fans to grab on to. I'd be amazed if there wasn't a promise of investment in the playing squad,' he said.
'But United have to play by Financial Fair Play rules and at the moment they are being punished for previous failures in the transfer windows, outstanding fees and pay-offs.
'It hasn't been a spectacular period in the transfer window for United and that continues to hurt them.'
IT'S ALL KICKING OFF! 
It's All Kicking Off is an exciting new podcast from Mail Sport that promises a different take on Premier League football.
It is available on MailOnline, Mail+, YouTube, Apple Music and Spotify.
Your browser does not support iframes.

Source: Read Full Article