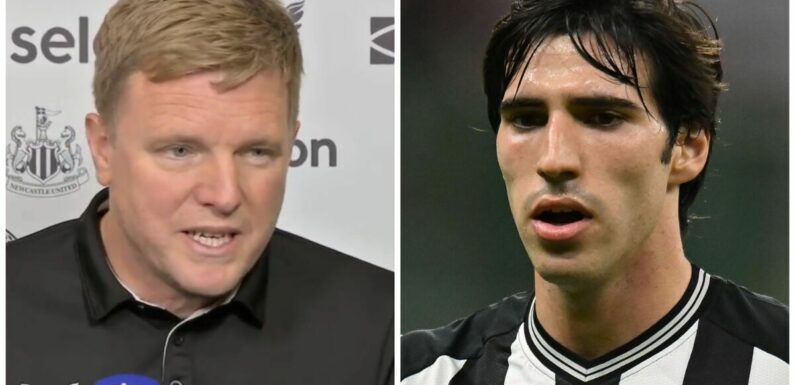 Newcastle United fans were special during PSG victory | Football Digest
Eddie Howe has broken his silence on Newcastle star Sandro Tonali potentially facing a lengthy suspension, after the club confirmed that he is cooperating with Italian investigators regarding a possible breach of betting rules. Tonali was withdrawn from international duty ahead of Italy's Euro 2024 qualifier with England as a result of the current situation. Howe has a decision to make over whether to include him in the team to face Crystal Palace on Saturday.
Tonali is currently free to play while he awaits a verdict in his case and is training with Newcastle. On Tuesday the midfielder admitted that he bet on Milan to win games while he played for the club.
According to FIFA Code 26, breaking such a rule can carry a three-year ban from worldwide football although it is thought that Tonali would be handed a reduced sentence for his aid in the investigation and admitting guilt.
When asked for Tonali's current status, Howe replied: "Yeah he's very much with us. He trained twice this week with us and he's very much available for selection. Like I do with all the players, analyse their training performances, how they look, how they feel. Sandro has trained well with us.
JUST IN Tonali 'faces maximum three-year ban' after admitting betting on his own team'[LATEST]
"He's had a very, very difficult couple of weeks. He's been dealing with a lot and from what I can see, I see him for a few hours a day, he's handling himself really well and he's dealing with his emotions incredibly strongly, but underneath that I'm sure there's a lot going on.
"I'll have to make a call but I always have to bring it back to football. I have to bring it back to his training performances and what he's delivering on the training pitch and then try and make the best decision for the team."
Advert-free experience without interruptions.
Rocket-fast speedy loading pages.
Exclusive & Unlimited access to all our content.
Don't miss…
Nicolo Fagioli to face 'seven month ban' as Newcastle sweat over Sandro Tonali[LATEST]
Newcastle ace Tonali 'fighting gambling addiction' as 'shaken' star faces ban[REACTION]
Man Utd draw up five-man shortlist with rivals 'interested' in Jadon Sancho[TRANSFERS]
Howe offered no comment when asked whether AC Milan knew about the potential breach of rules when they sold him for £55million in the summer, while the boss was also unaware of when any punishment would be handed to the 23-year-old.
He did describe hearing of the news for the first time, in a surprise phone call from sporting director Dan Ashworth. "I can't remember what day it was but it was during the international break," he explained. "A total surprise to me, to him, to everybody. These are the things in this job and this role that can happen. As I said my immediate process was for Sandro and making sure he was ok. A very difficult period.
"There's so many different things in people's personal lives that can happen. Footballers are human beings and to look at them anything other is wrong. We all have vulnerabilities, weaknesses, things that happen in our lives that can be difficult so the main thing is if we identify it, support the player as we'll always do, try and help them get to their best level on the football pitch."
To celebrate the new Premier League season, Sky has slashed the cost of Sky Sports from £25 down to £0 for the first six months of your contract! You'll also enjoy the same free Sky TV + Netflix bundle available with all Sky Glass bundles right now, as above
FREE delivery | Screen size: 43, 55, and 65-inch available | Set-up costs: £10
Unlock all Sky Sports channels, including Sky Sports Main Event, Sky Sports Premier League, and Sky Sports Golf. And unlike other channel bundles from Sky, its sports coverage arrives in High Definition as standard! 
Virgin Media bundles all TNT Sports (formerly BT Sport) channels with its Bigger + Sports broadband and telly bundle at no extra cost! You'll even be able to watch in 4K Ultra HD as standard
Sign-up for a 30-day free trial with Amazon's Prime Video service to catch all of the Premier League fixtures exclusive to the streamer this season. Cancel anytime during the trial and you'll be charged nothing 
Source: Read Full Article