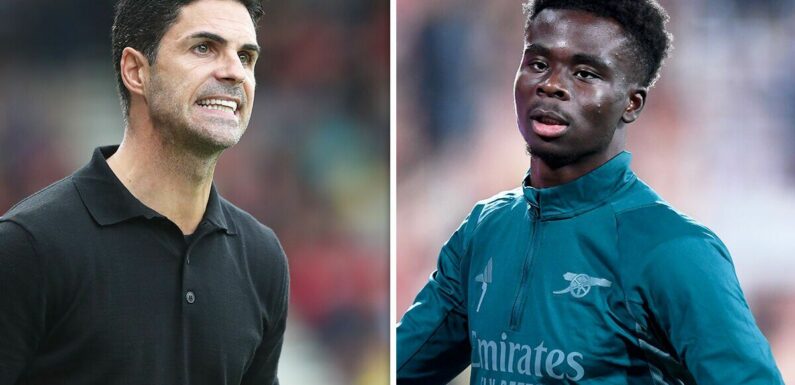 Arsenal manager Mikel Arteta will be sweating over the fitness of three first-team stars ahead of the return of the Premier League. The Gunners take on Chelsea at Stamford Bridge on Saturday as they attempt to maintain their unbeaten start to the season in the top flight.
Arsenal have won six and drawn two so far in the league and have three points from a possible six in the Champions League. Victory last time out against Manchester City has sent a sign that last season's title push was not a one-off.
Arteta's side proved at the Emirates that they can win without Bukayo Saka. The winger's run of featuring in 87 league matches in a row came to an end due to a hamstring problem he picked up in Europe.
Saka was not ruled out by Arteta in the lead up to the match but he was unable to train the day before which ended his chances of playing. England insisted on inspecting the 22-year-old's injury before ruling him out of the squad for matches against Australia and Italy.
Read more… Barcelona XI may look unrecognisable next season with Man Utd and Chelsea stars
They did that last Monday and Saka was swiftly sent packing by the Three Lions medical staff. Saka has been able to shake off impact injuries he suffers due to repeatedly being fouled but a hamstring issue must be dealt with differently.
It was two weeks ago today that Saka was substituted midway through the first half of the Champions League loss to Lens. Arteta will be keen to have him back against Chelsea but, with a busy fixture schedule coming up, he won't want to risk him before he is 100 per cent.
Perhaps a more pressing issue is that of William Saliba. The defender was made unavailable for France selection due to a toe injury that he has been carrying for several weeks.
Saliba's absence last season played a part in Arsenal's capitulation in the title race. There is no direct replacement for Saliba but Ben White would likely have to move over from right-back.
We use your sign-up to provide content in ways you've consented to and to improve our understanding of you. This may include adverts from us and 3rd parties based on our understanding. You can unsubscribe at any time. More info
Don't miss…
Liverpool 'still want' same £26m star Jurgen Klopp snubbed for Ryan Gravenberch[GOSSIP]
Five Chelsea stars that cost £158m wasting away as Boehly faces transfer regret[TRANSFERS]
Kylian Mbappe told Pep Guardiola would ruin him as Man City boss blasted[QUOTES]
A third player Arteta will be sweating over is Leandro Trossard. The Belgian suffered another injury during the first half of the win over City and was forced to pull out of the Belgium squad.
It is the second hamstring problem Trossard has picked up this season. Arteta may have to throw Gabriel Martinelli in for his first start in over a month if Trossard doesn't make it at the weekend.
Arteta will also be crossing his fingers that no other players return to London Colney with fitness issues after their international exploits. Thomas Partey has picked up valuable minutes with Ghana and could be pushing to start on Saturday.
Source: Read Full Article