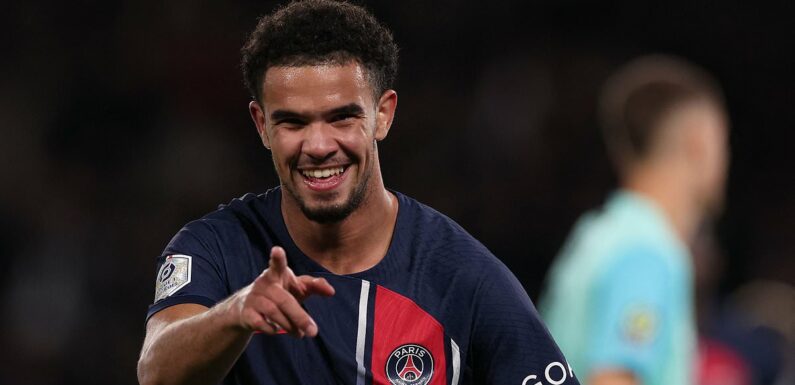 Kylian Mbappe and Achraf Hakimi lead the bundle as Warren Zaire-Emery is MOBBED by his PSG team-mates after being handed a first ever France call-up by Didier Deschamps
Warren Zaire-Emery has excelled at PSG and has five assists in his 14 matches 
Zaire-Emery can beat Eduardo Camavinga's France record as youngest player 
DOMINIC KING: I don't understand what football is anymore – It's All Coming Up 
Warren Zaire-Emery was mobbed by his Paris Saint-Germain team-mates after receiving the news that he had made Didier Deschamps squad for Les Bleus upcoming Euro 2024 qualifiers against Greece and Gibraltar.
The 17-year-old has been in stunning form for Luis Enrique's PSG this season, breaking into the first team despite both his youth and the array of talent available at the club. 
He is considered by some to even be the standout star from the Ligue 1 champions, and has shown himself to be a frightful talent beyond his years in central midfield. 
In 14 games so far this term in all competitions, he has scored twice and provided five assists, and will now have the opportunity to show what he can do on the international stage. 
In a heart-warming social media video posted on X by PSG, Zaire-Emery can be seen being bundled by his team-mates – including Kylian Mbappe – who were keen to share in the moment with their young colleague.  
Warren Zaire-Emery has been called up to the France national team for the first time
Kylian Mbappe led a PSG player bundle on the youngster as his club-mates enjoyed the moment with him
Your browser does not support iframes.
First-team superstars Mbappe and best friend Achraf Hakimi can be seen leading the way as a group of PSG players storm into Zaire-Emery's room as he watches Deschamps' squad announcement and jump on him in his bed. 
The group then bundle on top of the youngster shouting and celebrating his moment, before eventually letting him get up. 
Zaire-Emery is then treated to a handshake and an embrace from Mbappe, as well as his other team-mates, with a proud if not embarrassed look on his face. 
Born and raised in the Parisian suburb of Montreuil, Zaire-Emery's graduation to the national team from his boyhood club comes as perhaps little surprise. 
However, he could become the youngest star for Les Bleus in over a 100 years since World War One should he get minutes in the international break. 
Eduardo Camavinga currently holds the national record at 17 and nine months, with Zaire-Emery in with a chance of eating that feat by a month. 
He is of course by now no stranger to making his mark at a young age, having made his bow for PSG at 16 in the first game of the 2022-23 season. 
France are top of Group B, six points clear of the Netherlands after six games, with a perfect record and will take on Gibraltar in their pool, as well as a clash with Greece in the upcoming break.  
Didier Deschamps named his squad for France's upcoming clashes with Gibraltar andGreece 
The current national team record for youngest first cap is held by Eduardo Camavinga (17 years nine months)
IT'S ALL KICKING OFF! 
It's All Kicking Off is an exciting new podcast from Mail Sport that promises a different take on Premier League football.
It is available on MailOnline, Mail+, YouTube, Apple Music and Spotify.
Your browser does not support iframes.
Source: Read Full Article