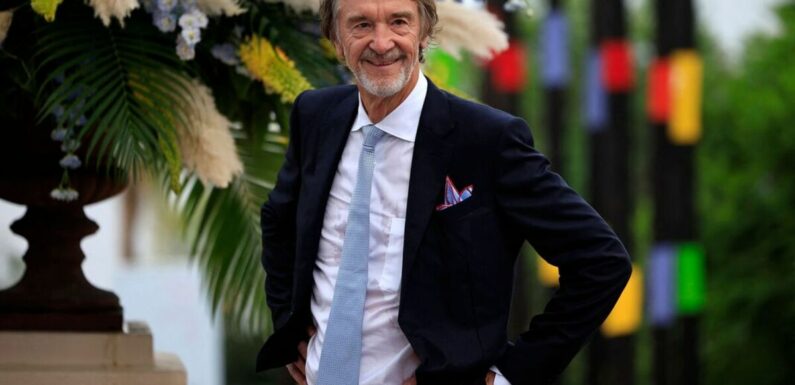 Sir Jim Ratcliffe closing in on a 25 per cent purchase of Manchester United has failed to have a positive effect on the club's share price on the New York Stock Exchange. The Red Devils look close to bringing their long takeover process to an end after Sheikh Jassim bin Hamad Al Thani withdrew from the process.
British billionaire Sir Jim Ratcliffe had changed his original bid earlier this summer to focus on acquiring a minority 25 per cent stake. Ratcliffe's bid is said to value United at close to £5.35billion ($6.5bn), far greater than what Sheikh Jassim's offer to buy 100 per cent of the club was.
But the INEOS chief looks to have overvalued United by some margin, according to the club's stock price. Bloomberg report that Manchester United plc shares 'fell as much as 22 per cent in premarket trading' on Monday morning following the takeover developments over the weekend.
That would represent the biggest decline in United's stock price since the club was floated back in 2012. With the drop in share price, United were valued at around £2.72bn ($3.3bn).
The New York Stock Exchange closed on Friday with United's share price sitting at £16.45 ($19.98). That was before Sheikh Jassim officially withdrew from the bidding process to buy United from the Glazers.
But it dropped to £12.79 ($15.53) when the market reopened on Monday morning with Ratcliffe's bid not having the desired effect on investors. The stock is still trading higher than a year ago before the Glazers announced plans to sell the club.
Don't miss…
Jim Ratcliffe accelerates stadium upgrade as John Murtough faces Man Utd sack[LATEST]
Man Utd buy-out was sealed by 'multiple New York trips' and deal restructure[LATEST]
Sheikh Jassim scored huge own goal forcing Glazers to pick Ratcliffe bid[LATEST]
We use your sign-up to provide content in ways you've consented to and to improve our understanding of you. This may include adverts from us and 3rd parties based on our understanding. You can unsubscribe at any time. More info
Investors have since had a rocky road over the past 12 months with the stock price jumped up to a high of just over £21.93 ($27) in February. A trend throughout the past 12 months suggested investors were more drawn to the idea of Sheikh Jassim completing a full takeover at Old Trafford.
United's stock price regularly jumped up when reports emerged suggesting the Qatari group were closing in on an agreement. But the latest movement indicates investors are not overly convinced that Ratcliffe's takeover bid is the best for the club.
United fans have been left frustrated throughout the takeover process over the uncertainty surrounding what the Glazer family want.
Source: Read Full Article