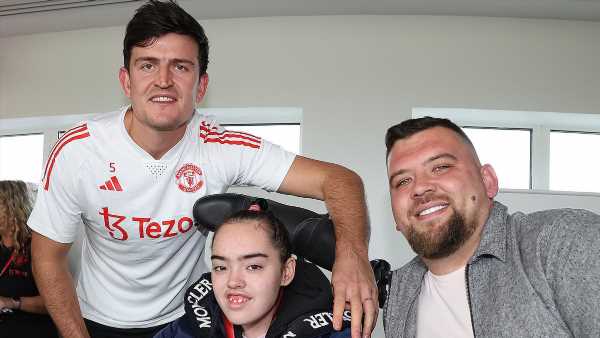 Manchester United stars Harry Maguire and Mason Mount join Erik ten Hag and other first-team stars in making heart-warming memories with supporters at the club's Dream Days event
Manchester United hosted their special Dream Days event on Friday afternoon
First-team stars met supporters at the club's Carrington training complex
Listen to the latest episode of Mail Sport's podcast 'It's All Coming Up!'
Manchester United held one of their twice-yearly Dream Days on Friday where they work with the club's foundation to give fans with life-limiting illnesses a brilliant day out.
Their Carrington training complex was packed with first-team stars who met with young supporters and spent time bonding with them throughout the day.
United take on Sheffield United at Bramall Lane on Saturday as the Premier League returns from the international break with players going through final training preparations.
Erik ten Hag and members of his team, some of those who had just returned from overseas trips with their national sides, took time after training to meet supporters from across the UK and Ireland.
Summer recruits Mason Mount, Sofyan Amrabat, and Sergio Reguilon were present and posed for photos with supporters kitted out in United's latest strips. The trio are expected to be involved in this weekend's fixture.
Summer recruit Mason Mount was one of the Man United's stars in attendance at the event
England international Harry Maguire posed with supporters and signed autographs
United full-back Sergio Reguilon took time out with supporters after training on Friday
United manager Erik ten Hag was enjoying making fans smile at the club's Dream Days event
Goalkeeper Andre Onana was also in attendance as he met some of the club's supporters
Your browser does not support iframes.
England international Harry Maguire also joined in the special afternoon event and was all smiles as he met young fans battling illnesses and their family members who were also in attendance.
Academy graduates Hannibal Mejbri and Kobbie Mainoo who have forged their way into the first-team this season got their first taste of working with United's foundation as senior players and were popular amongst visitors.
Andre Onana, Victor Lindelof, Raphael Varane, Jonny Evans, Altay Bayindir, Donny van de Beek and Scott McTominay were amongst some of the other stars involved in the heart-warming day. 
Speaking to the club's official website afterwards, Ten Hag said: 'It has been a pleasure to invite our fans to Carrington to watch training and meet the team as part of this special Dream Day experience. 
'On a personal level, I have found it so enjoyable attending.
Academy graduate Hannibal Mejbri met supporters at United's Carrington training complex
Summer arrival Altay Bayindi holds a pair of goalkeeper gloves as he talks with a young fan
Morocco international Sofyan Amrabat was popular with supporters at the special event
Academy hopeful Kobbie Mainoo poses for a photograph with two Man United supporters
Scott McTominay will likely have been asked by supporters about his late goalscoring heroics against Brentford
'Taking time out to talk with families has been really rewarding for both myself and the players. It is so important spending time with our fans, especially those who are going through a tough time, so doing something small to make them smile is truly worthwhile.
'Seeing the connection and atmosphere between the players and the fans has been really nice and that sums up what Manchester United is all about.'
Northern Irishman, Evans, who returned to United for a second stint at the club during pre-season has previously been involved in Dream Days and hailed the impact of the United foundation.
He added: 'It's amazing what the Foundation does. Throughout my time here, as a youngster, it was something that was always bedded into us; how important the fans are. It's such a big part of this club and always will be.'
IT'S ALL KICKING OFF! 
It's All Kicking Off is an exciting new podcast from Mail Sport that promises a different take on Premier League football.
It is available on MailOnline, Mail+, YouTube, Apple Music and Spotify.
Your browser does not support iframes.

Source: Read Full Article