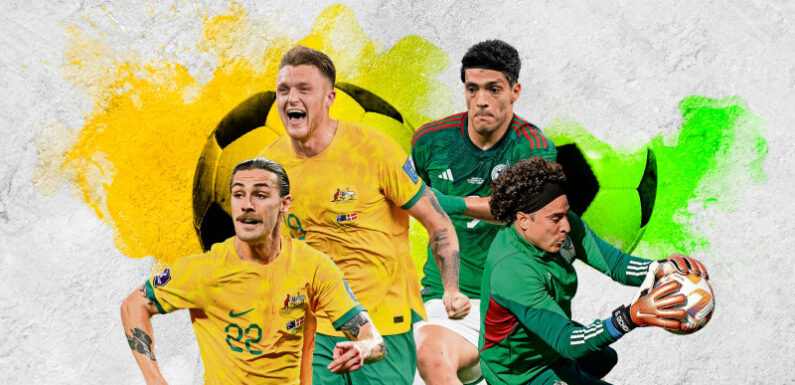 Save articles for later
Add articles to your saved list and come back to them any time.
Key posts
Here's how the Socceroos are lining up
It's anthem time
The teams are out on the pitch, lining up for the national anthems – which means kick-off is only a few minutes away. Strap yourselves in.
Lots of new faces in Socceroos squad
Only 11 of the players in the current Socceroos squad were part of Graham Arnold's 26-man selection for Qatar.
Here's a recap of the squad selection – along with Arnold revealing he turned down a job offer with Scottish club Hibernian to stick it out with the national team.
We have it on very good authority that it will be Central Coast Mariners boss Nick Montgomery who will take up that gig at Hibs instead. And one of his star players from their A-League grand final victory, new Middlesbrough recruit Sam Silvera, could come off the bench today for his Socceroos debut.
What's different about AT&T Stadium
Two main things.
Firstly, this venue used to have the biggest 'big screen' in the world. Now it's a lowly number 40.
The Detroit Lions play the Dallas Cowboys at AT&T Stadium.Credit: Getty Images
Secondly, the surface is artificial turf. Not natural grass. So that's something different for some players to contend with, although it is common in some leagues around the world, including MLS.
A quick primer on Australia's 2023
Let's bring you up to speed on what the Socceroos have been up to since the World Cup.
Short answer: not much. We are at the very start of the new cycle, though, so that's to be expected.
They've played three games this year – two against Ecuador, a 3-1 win and a 2-0 defeat, and also a 2-0 loss to Argentina in China.
Socceroos coach Graham Arnold.Credit: Getty
This match was arranged not only to give Australia a strong opponent to test themselves against, but also to get an early taste of the next World Cup, which will be co-hosted by the United States, Canada and Mexico in 2026.
The Mexicans play a lot of games north of the border, and usually, their fans are very vocal, even away from home. The word is a crowd of around 50,000 to 60,000 people is expected for this one in Texas.
After this, by the way, the Socceroos have two games in London next month – against England and New Zealand – and then begin World Cup qualifying for 2026 in November with a clash against either Bangladesh or the Maldives on November 16, and then Palestine away on November 21.
Here's how the Socceroos are lining up
Here's how the Socceroos are lining up. As flagged by coach Graham Arnold, defender Kye Rowles is being tested at left-back, while there's a starting debut for Cameron Burgess in the centre of defence next to Harry Souttar, who has been starved of game time at Leicester City.
Other points of interest are the return of winger Martin Boyle, who missed the World Cup and the Socceroos' last two international fixtures due to an ACL injury, and the midfield, where Keanu Baccus and St. Pauli teammates Jackson Irvine and Connor Metcalfe will get the first chance to impress for Australia following the recent retirement of Aaron Mooy.
Mathew Leckie, if you missed it, injured his knee at training this week and will miss at least the next eight weeks, possibly longer, ruling him out of the start of the A-League season with Melbourne City.
And here's the Mexican team – not too many familiar names, unless you're a huge Liga MX follower.
Hello football fans
G'day and welcome to our live coverage of today's international friendly between the Socceroos and Mexico… in Texas.
I'm Vince Rugari, and I'll be steering the blog this afternoon. Or morning.
This should be a very interesting game. There's nothing tangible at stake of course, but this is one of only three more games Australia has to play before the start of World Cup qualifying in November – and then, in January, the Asian Cup – and Graham Arnold is rolling out a different-looking team against a pretty strong opponent.
Team news coming up in a second.
Most Viewed in Sport
Source: Read Full Article