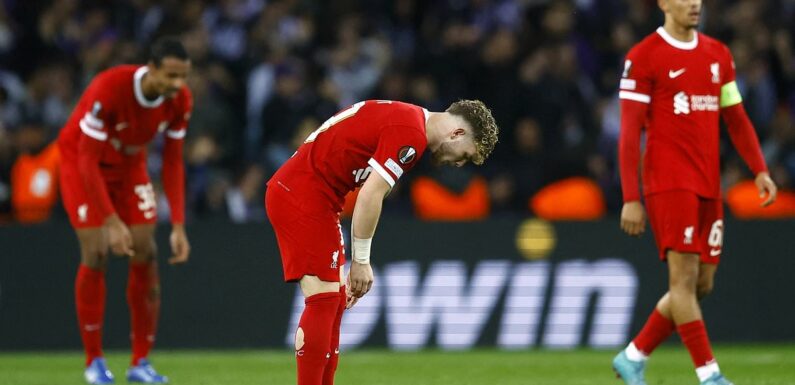 Jurgen Klopp urges his Liverpool players to 'learn quickly' after defensive errors crept in during loss to Toulouse and draw against Luton and claims his team have not been 'aggressive enough'
Jurgen Klopp believes 'Liverpool 2.0' still have areas they need to improve on 
He criticised his team's defending after two meagre performances back-to-back
Why Luton are the team that can stay up from promoted clubs: It's All Coming Up
Jurgen Klopp says Liverpool need to 'learn quick' if they are to push on and justify the praise for his team after falling to a disappointing draw and defeat in trips to Luton and Toulouse this week.
The Reds were second best and outplayed in France on Thursday night as Toulouse claimed one of the most memorable wins in their history and left Liverpool with work to do to qualify for the knockout stages of the Europa League.
And Klopp says that Liverpool were not aggressive enough and struggled to deal with the raucous atmosphere at Kenilworth Road and the Stade de Toulouse, with the German slamming his side's defending and saying they need to use the last week as a learning curve.
When asked if those dropped points have been a wake-up call, Klopp said: 'Yes, that is how we have to use it. Of course we have to react. We really have to defend better. We had four versus one situations and they won the ball and come out.
'We can't have one versus one with three watching. That is what we have to change. We can be a really good team, we have shown that, we have shown what we can be. But I want it now (clicks fingers).
Jurgen Klopp thinks his refreshed Liverpool side still have things to learn after two poor games
Liverpool struggled against Luton on Sunday and only rescued a point with a late leveller
The Reds were second-best and conceded three goals against mid-table Ligue 1 side Toulouse
Kostas Tsimikas lost the ball in the build-up to Toulouse's opening goal in the Europa League 
Your browser does not support iframes.
'We cannot have what happened in Toulouse. We were not aggressive enough. If we are thinking we need Anfield, Brentford will come and they will be physical… we have to be ready.
'I want us to learn from this. We can lose a game. But we have to use it to learn the right things.'
The Reds have had a lot of praise this season for 'Liverpool 2.0' as Klopp's side made a positive start to the season but there are still clear cracks for the management team to iron out. French mid-table side Toulouse exposed gaping holes in their defence, while their attack was toothless.
'I wish we would learn quick,' added Klopp. 'Generally we are in a positive situation and it is important to learn to deal with that. There has been a lot of praise and comments, I am happy with that, but in these moments you have to be there.
'Luton is a real learning curve, and not just because we are away. It was similar atmosphere (in Toulouse). That should not be a problem. We had that at Newcastle, for example, a real atmosphere. We have to learn, it is part of the learning process but it does not feel great.'
Klopp is expecting his team to be ready for a physical test against Thomas Frank's Brentford
IT'S ALL KICKING OFF! 
It's All Kicking Off is an exciting new podcast from Mail Sport that promises a different take on Premier League football.
It is available on MailOnline, Mail+, YouTube, Apple Music and Spotify.
Your browser does not support iframes.
Source: Read Full Article