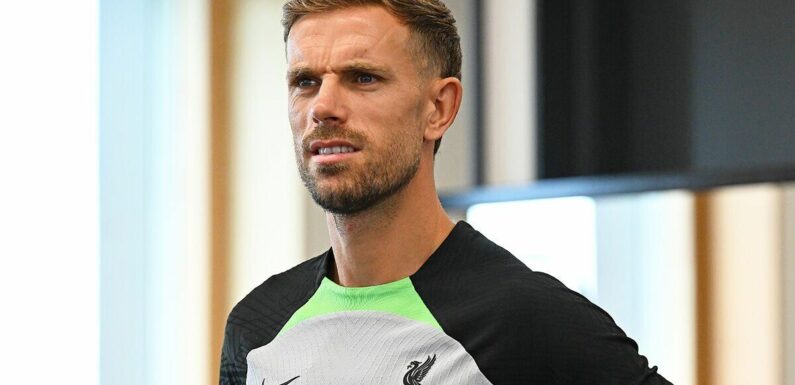 Jordan Henderson has claimed "it's plain for everybody to see" that the current Liverpool owners have only done good for the club. Fenway Sports Group have faced criticism from supporters in recent times but the former captain would wholeheartedly disagree with any negative perception of them.
FSG bought Liverpool in October 2010, less than a year before signing Henderson from Sunderland. The midfielder therefore knew no other owners during his 12 years at Anfield.
Liverpool have won the Premier League and Champions League in that time, as well as reaching two more finals in Europe's elite club competition. They were responsible for appointing Jurgen Klopp, the Reds' most successful manager in over 30 years.
However, some supporters and ex-players have vented their frustration towards FSG, claiming they have not backed Klopp as much as he needed in the transfer market. But Henderson, who left to join Saudi club Al-Ettifaq earlier this summer, is at odds with those critics and only has good memories of the owners.
Read more… Liverpool decide stance on accepting £200m Saudi transfer bid for Mohamed Salah
He told The Athletic: "Honestly, I can only have positive things to say about the ownership. They've been so good.
"It's plain for everybody to see. When they came in and took the club over to where it is now and what they've achieved in that time — pretty much the same length of time as I've been there — has been remarkable, really.
"These guys are smart people. They know what they're doing. They're not a club that's going to go and splash one hundred, two hundred, three hundred million on a player.
"They know what they need and sometimes — in my situation — that's not nice at times. But it's the best thing for the club. It's the best thing for the team."
We use your sign-up to provide content in ways you've consented to and to improve our understanding of you. This may include adverts from us and 3rd parties based on our understanding. You can unsubscribe at any time. More info
Don't miss…
Bukayo Saka explains what he told Declan Rice to convince him to join Arsenal[INTERVIEW]
Bukayo Saka crowned England men's Player of the Year again as he pips Bellingham[NEWS]
Man Utd price plummets by over £550m as Glazers takeover U-turn causes turmoil[LATEST]
The 23/24 home shirt for Liverpool pays homage to the past of the club, as well as collaborator Nike, with a strong 1970s influence. The iconic red, capped with bold white cuffs and collar really does invoke that classic Liverpool FC style while adding a cool retro touch
Henderson says FSG always have a clear plan for the transfer window and believes this summer was no different, including with his exit. He added: "I saw Jurgen said a few days ago that he's really happy with the transfer window and he loves his team. 
"Which tells you the players that left, he probably wanted to go and the players that have come in, he probably wanted to sign. So they'll have had a plan.
"It's not as if they just went last minute, 'Oh Jordan's going and Fabinho's going, Milner's going'. There's always a plan, there's always a strategy, especially with this ownership.
"And to be honest, I always felt as though they had the best interests of the club at heart. They never take any money out of the club. They invest it all back in the club — whether that's with the stadium, training ground, players."
Source: Read Full Article