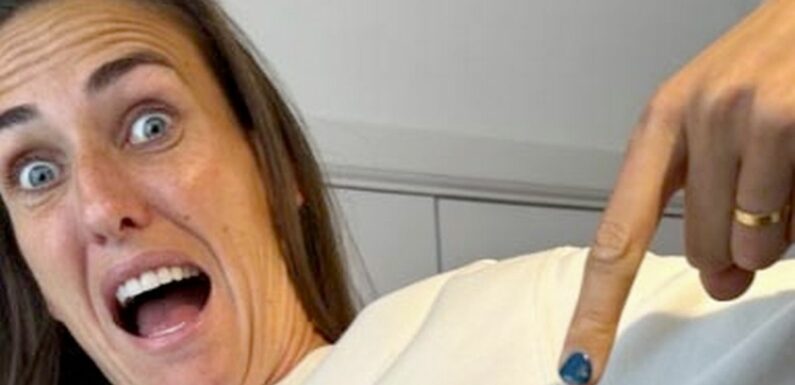 England legend Jill Scott has decided to forever remind herself of her foul-mouthed outburst during the Euro 2022 final – by getting a tattoo.
The former midfielder went viral when telling Germany defender Syndey Lohmann: "F*** off you f***ing p****" during the final which England ended up winning 2-1 in extra-time. While audio of the rant wasn't heard, it was fairly obvious to fans what exactly the 36-year-old was saying to her opponent.
Scott's blowup forced BBC commentator Robyn Cowen to apologise to viewers as she said: "Apologies to any lip readers. Not sure you need to be one to figure out what Jill Scott thought of that." The ex-Man City star vowed to get the infamous swear words tattooed on her if England won the Women's World Cup.
READ MORE: Lioness Leah Williamson shows off abs alongside Alex Scott who wears see-through dress
READ MORE:Nike finally sell Mary Earps' England shirt after backlash – and they sell out in hours
On her BBC podcast, she promised: "I'm going to make a pact now live on the podcast, OK? I don't know if I should be doing this, I've had a few coffees today. But when England win the World Cup, I will get FOYFP tattooed on me." While England fell to a 1-0 defeat to Spain in the final, Scott went ahead with the tattoo which made for great showing on her TikTok account.
She displayed her new ink on the social media platform with the letters FOYFP marked on her side as fans marvelled and had a right laugh with one person writing: ""JILL AHAHAHA I LOVE THIS. ABSOLUTELY ICONIC" while another wrote: "Iconic! Never ever regret this or the moment!"
Is Jill Scott the best English footballer of her generation? Give us your thoughts in the comments section below
During her international career, Scott played 161 times for England while scoring 27 goals. Their triumph in the Euros was their first ever in the tournament as she admitted she still gets goosebumps months after the win. "I still get goosebumps thinking about it," she said to Radio Times. "If I have days where I'm a bit tired or I feel like I've got too much to do, I think to myself, 'I won the Euros,' and I just smile.
"I had 16 years in the England team – a lot of struggles, a lot of defeats along the way. Sometimes now it feels surreal. I still feel like little Jill who loved football, and got a bit bigger during an incredible journey with amazing people."
Source: Read Full Article