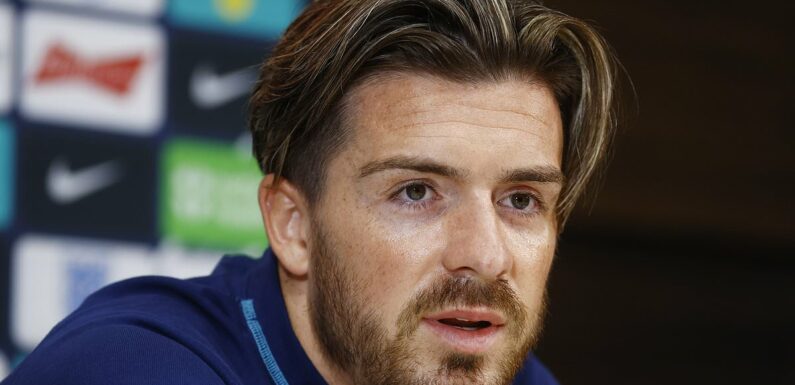 Jack Grealish reveals an extreme dead leg left him unable to walk… with Man City doctor claiming it was the 'worst he has ever seen'
Jack Grealish is expected to start for England against Australia on Friday night 
The Man City star revealed the extent of a thigh injury he sustained last month 
Listen to the latest episode of Mail Sport's podcast 'It's All Kicking Off!'
Jack Grealish has revealed he suffered an eight-inch haematoma on his thigh last month — an injury that left him unable to walk.
Manchester City forward Grealish was out for weeks after picking up the injury in a 2-1 win over Sheffield United. And the 28-year-old has explained how he was left debilitated by an extreme dead leg that had City medical staff staggered.
'I've had so many dead legs over the years and I am usually good at taking them, taking the hits and stuff,' said Grealish. 'You have little ones that are there for two to three days — but if you get a dead leg and you have the haematoma (a bleeding outside the blood vessels), a bad one, it's around six centimetres (two-and-a-half inches).
'Mine was like 20 centimetres. Our doctor (Max Sala) said it's the worst dead leg he's ever seen, by a mile.
'It wasn't even bad, the tackle. It was Oli McBurnie. If I showed you the tackle now, you'd be like, "Get up". But the pain…honestly! After the game it was sore. But when I was on the coach, I was like, "I need something here".
Jack Grealish has revealed he suffered an eight-inch haematoma on his thigh last month
Grealish said Man City's doctor claimed it was the worst dead leg he had ever seen
Your browser does not support iframes.
'I went to walk off the coach back into the training ground at City and I genuinely could not walk. I couldn't bend my leg. I had to get crutches.
'It was the worst pain ever. I was going into City every day. I was in for 14 days in a row because you need to keep it moving. Five weeks later, it's all right.'
Grealish, who is effectively undergoing a second pre-season because the injury prevented him completing fitness training, is in line to start for England against Australia at Wembley on Friday night. 
Barring a dramatic loss of form, he is among the players expected to form part of Gareth Southgate's squad who travel to Germany for Euro 2024 next summer. 
However, a clutch of England's more inexperienced players will be hoping for an opportunity to impress against the Aussies, with the likes of Jarrod Bowen, Levi Colwill, Ollie Watkins and Conor Gallagher desperate to play.
'We need to give people opportunities — we have six matches before we name a squad for a European Championship,' said Southgate. 'So if people are going to have the chance to force their way into that squad, we need to play them. It is an important night for a lot of players, they will recognise that.
'There is a reality with England that you have to take your chances when they come.
'As a former player, you knew the moments when you felt, "OK, I've got to deliver tonight".
'Our job is to try to alleviate pressure from the team but you cannot hide from the fact that you have to deliver with England so we have got to be good at coping with pressure.' 
The Man City star is in contention to start for the Three Lions against Australia at Wembley 
England boss Gareth Southgate is considering resting captain Harry Kane on Friday night
Chelsea defender Levi Colwill is expected to make his debut during the international break
Kalvin Phillips is another who will be hoping for game time after warming the City bench. The midfielder, a star of England's run to the Euro 2020 final, has started just two league games since his £42million move from Leeds last year. 
And Southgate added: 'We still know that he's a very good player. He's competing with Rodri, Mateo Kovacic and Bernardo Silva in a deeper midfield role. He's up against some of the best midfield players in world football.
'In the way we want to play, he can be hugely important for us. But it's not a good situation for us that he's not playing regularly.'
Elsewhere, Southgate is considering resting Harry Kane, which could see Jordan Henderson captain the team.
IT'S ALL KICKING OFF! 
It's All Kicking Off is an exciting new podcast from Mail Sport that promises a different take on Premier League football, launching with a preview show today and every week this season.
It is available on MailOnline, Mail+, YouTube , Apple Music and Spotify
Your browser does not support iframes.
Source: Read Full Article