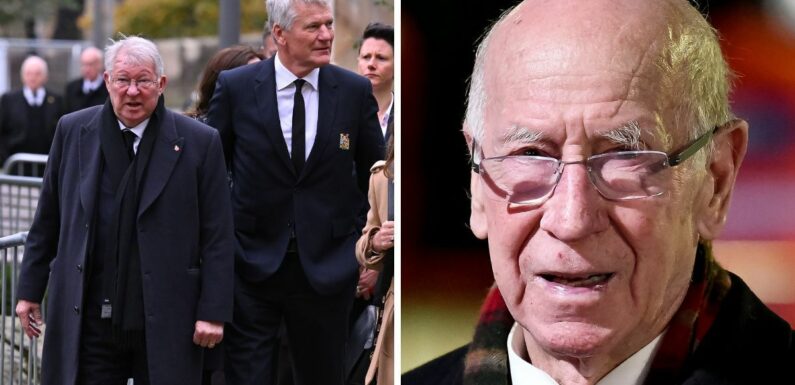 It was as John Shiels, the chief executive of the Manchester United Foundation, was reflecting in his eulogy that in all the time he worked with Sir Bobby Charlton he never once heard him raise his voice or swear when it happened. The sun, reticent up until then on a November day in the north-west, broke through outside a packed Manchester Cathedral and, reflecting off the pipes of the organ, bathed the great man's final farewell in light.
‌It was almost like it was meant to be. The great and the good of the game were there to pay homage to the finest English footballer to have laced up a pair of boots. Manchester United legends such as Sir Alex Ferguson and Roy Keane – on separate sides of the church of course – were in attendance as well as present-day players like Harry Maguire.
There were notables from further afield too like Emilio Butragueno, representing Real Madrid. The turnout was a reflection of how much Charlton had given to football as a player and an ambassador. With FA president Prince William there, sitting next to Gareth Southgate, it had the guest list of a state funeral, almost, but there was a personal warmth to the service which made it feel intimate.
‌Charlton's grandson William Balderston spoke endearingly about being nutmegged in the garden by a World Cup winner and sharing his sledge with his grandad in the snow. He talked about Charlton making up and telling incredible "jelly and custardy" stories that would take up whole afternoons.
JUST IN: Man Utd icon Sir Alex Ferguson leads fitting tributes to Sir Bobby Charlton
Most of all, he talked about his kindness. "What I've always been more inspired by is not his greatness but his goodness," he reflected.
Shiels, brandishing a ball inside the cathedral, noted that Charlton would often describe it as the best toy ever invented. He recalled the scenario, well after his career had ended, when Charlton would have one at his feet at one of his soccer schools.
‌"He had a different philosophy to the coaching theory," he said. "Theoretically it should be accuracy over power to finish; Sir Bobby's philosophy was that whenever you got near goal, just smash it."
It seemed to work OK for Charlton – 249 goals for United, 49 for England. David Gill, the former United chief executive, preferred another statistic from Charlton's incredible career. "Only two bookings and never sent off. To me that says it all – you can be a superstar and a fierce competitor while still being a gentleman," he said.
Support fearless journalism
Read The Daily Express online, advert free
Get super-fast page loading
Don't miss…
Ex-Chelsea youth ace Jay Dasilva ditches England for Wales despite Euros glory[NEWS]
Arsenal and Chelsea hoping for '£45m Ivan Toney discount' in January scrap[LATEST]
Chelsea duo James and Sterling present compelling joint case in Man City draw[OPINION]
‌Gill, a close friend during their time on the United board, recalled how Charlton was still so in love with football in his 60s that he clattered into the advertising hoardings in a charity game at Old Trafford. He also told of how he had urgently pulled the plug on a trip to an Amsterdam cafe at an Ajax away tie when the pair realised what the pungent smell from inside was.
‌But there were tears too when he touched on the Munich air crash and the baggage Charlton carried from it through the rest of his life. "Reflecting now, I would have liked to have talked to him more about Munich and how he coped in the aftermath but Bobby dealt with it in his own way – private, stoical and dignified," said Gill.
‌That was Charlton – a man of his time who lived the values of his generation. The 1,000-strong congregation who said their goodbyes knowing there will never be another like him. It was a beautiful send-off.
Want the latest Premier League news as we publish it on Express Sport? Join our Facebook group by clicking here.
Source: Read Full Article