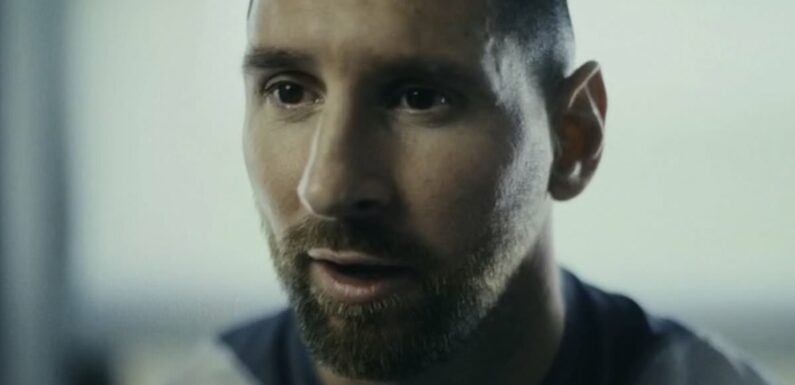 Inside Lionel Messi's whirlwind start to life at Inter Miami – in his own words: Advice from David Beckham, Antonela enjoying Florida and a debut that was beyond 'my wildest dreams'
'Messi Meets America' released its first episode on Apple TV on Wednesday
The episode gives insight into Messi's first days joining Inter Miami this summer 
DailyMail.com provides all the latest international sports news 
The first chapter in Apple's 'Messi Meets America' documentary shared the background into how Inter Miami got one of the greatest players of all time – with the man himself offering his thoughts.
Episode one talked about the lengths that David Beckham and the Mas brothers went to bringing Lionel Messi to the club this past summer – and gave insight into the process.
'There's a lot of hard work that has to be done to bring a player like Leo into this league, and we were prepared to do that,' Beckham said in the documentary. 
'Because a player like Leo and the magnitude of bringing him and his family to Miami, there's many elements that have to be put right before you even think about having a conversation.'
Messi said that Beckham shared insight into how the league worked, what it was like, and what the Englishman experienced when he joined LA Galaxy in 2007. 
The first episode of 'Messi Meets America' gives insight to the Argentine's first days at the club 
Messi said that the decision to join Miami was something that he and his family wanted
Messi says his family has enjoyed their time in Miami and has had a 'nice start' to life there
'He guided me and told me a little bit about his experience, what it had been like for him to come and play here when he made the decision,' Messi said in Spanish (translation via subtitles). 
'But at the same time he told me that things now were not the same because the league has grown a lot since his arrival.'
Eventually, after debating a return to Barcelona or a move to Saudi Arabia, Messi agreed to join Inter Miami this past summer.
'I came with great enthusiasm,' Messi said. 'My wife and I and our children have really been enjoying ourselves and we've been talking about what this could mean for us. And it was a nice start.'
When it came to being aligned with Beckham and the other owners, it was important to Messi, 'to know that we were going in the same direction that we had the same idea and the same desire to make the club grow and to be a club that people can identify with and come to love.'
His signing was a coup for Beckham and Mas – who fulfilled promises they made to fans that they would bring the best players in the world to the Sunshine State.
'We made this decision to bring Leo to Miami not just for us, not just for our fans – but we did it for the league, we did it for the sport and we did it for America,' Beckham said. 'But what comes with that is the eyes of the world.'
What the eyes of the world saw when Messi first arrived was a Miami team in shambles.
It also shows what David Beckham and Miami's ownership went through to get Messi
Despite Miami being last in the league, Messi said his arrival was a good time for changes 
Beckham (L) said the choice to get Messi on Miami had impacts that went beyond the club
The team hadn't won a league match in eleven fixtures by the time Messi arrived in July – dating back to a 2-1 win over the New England Revolution.
That team was coached under Phil Neville. Neville lasted just five more games before being sacked in early June.
'I didn't want us to be on the bottom of the league when he arrived but we didn't win those games,' said Beckham. 
'We weren't in a great position. The team were very low on confidence, on morale. It wasn't good enough.'
Messi explained, 'We came from having a bad season in the league in terms of results and standings. But we also knew that it was a good chance to start changing things.'
Their first chance to do that was in a Leagues Cup match against Liga MX side Cruz Azul. Messi began his night on the bench but was eager to get in the game.
Messi said that David Beckham offered him guidance and told him about life in the USA
'I was very excited to play again,' Messi revealed. 'I was hoping to get in, many people had come to see me and I really wanted to go out to be in there to help the team because it was also a very very close match. 
'We had a chance to start with a victory and for us it was essential to start that way.'
Once he came on, Inter Miami's captain – American right back DeAndre Yedlin – gave Messi the captain's armband, something Messi initially objected to.
Messi said, '[Yedlin] told me he was going to give me the armband when I came in, I told him no. He was the captain and I was okay with that. He insisted that, no, I was going to be the captain.'
Then came the magical moment. Deadlocked at 1-1, Messi won a free kick in the 94th minute – which he sent into the top left corner with ease to pull out a victory.
Messi's free kick goal against Cruz Azul was something not even he could imagine
He says that he never could have dreamed that storybook beginning to his career with the club.
'The truth is it was crazy how it happened,' he explained. Not even in my wildest dreams did I imagine it playing out that way. 
'Obviously you always dream big and always imagine the best, don't you? But the truth is that I hadn't imagined it. 
'It was extraordinary to be able to start like this because of all the expectations I had, because it was my first minutes in my first home game, it gave us the victory in the last minute, and well… it was special. Truly.'
Source: Read Full Article