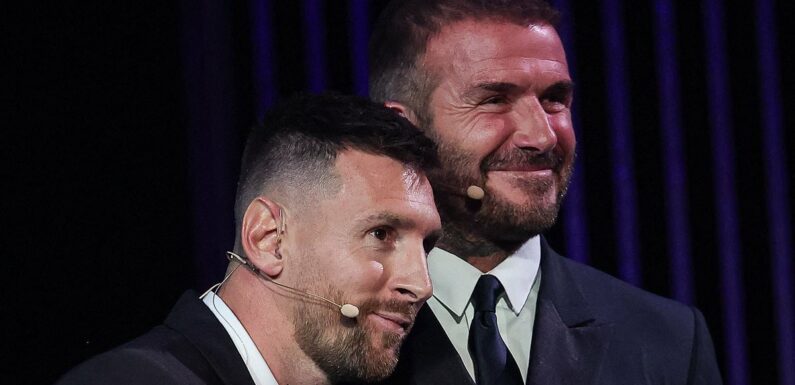 Inside David Beckham and Lionel Messi's bromance: Copying his taste for mate tea, getting celebs to games and wining and dining with Antonela and Victoria, here's how Becks launched the charm offensive since soccer star arrived in Miami
Beckham's full force efforts have won over the Messi family since their move 
Now, with a baseline set and more trophies to conquer, their friendship will grow 
DailyMail.com provides all the latest international sports news 
As Lionel Messi climbed the steps to receive his record-setting eighth Ballon d'Or, he was seen beaming at a man who he's gotten to know very well in recent months.
Few people in the world of sports have had the year that David Beckham has. Not only was he able to pull off the transfer of the decade for Major League Soccer, he saw his Inter Miami team win their first trophy – the Leagues Cup.
Now here he was: standing on a stage in France, passing the Ballon d'Or to Messi – the first ever MLS player to win the prestigious award.
It may be wrong to say that Beckham planned for all of this to happen, but he has been preparing for the moment of Messi's arrival for years.
Ever since the Argentine teased interest in Beckham's Miami project, the Englishman has tried to make it happen. He pulled it off through his charm and now has formed a friendship with the greatest to ever play the game.
David Beckham presented Lionel Messi with his eighth Ballon d'Or trophy on Monday
It's the culmination of what has become a fast friendship since Messi moved to Inter Miami 
After he became the man to hand Messi the gilded trophy, Beckham gushed over the Argentine captain. 
'It's very special to say he's a Miami player and he's in our city,' Beckham said. 'He'll celebrate this with his team-mates and his family in his way.
'We'll do our best to celebrate it in the Miami way. I'm sure we can do a good party.' 
Messi was joined at the ceremony by his wife, Antonela Roccuzzo, and their three sons, Mateo, Thiago and Ciro. The youngsters even joined Messi on stage.
This was all the culmination of years of speculation that the World Cup winner was interested in taking his talents to South Beach.
Back in 2018, when it was announced that Beckham would be starting a franchise in Miami, Messi sent along a congratulatory message via a social media video.
'First of all, congratulations,' said Messi, in Spanish, in a social media video. 'I wanted to wish you all the best in this project, this new role for you. 
'And who knows, maybe in a few years you can give me a call.'
Messi and his family have all begun settling into the city that they moved to in July 
Beckham put on a charm offensive – not just to woo Messi, but to welcome him to a new home
Call he did. Beckham and Miami began poking and prodding to try and get the wantaway star – who was with PSG at the time – to join MLS.
'There's a lot of hard work that has to be done to bring a player like Leo into this league, and we were prepared to do that,' Beckham said in the Apple TV documentary 'Messi Meets America'. 
'Because a player like Leo and the magnitude of bringing him and his family to Miami, there's many elements that have to be put right before you even think about having a conversation.'
In that same documentary, Messi said that Beckham was one of his main points of contact for questions about the league which the Englishman set alight in 2007. 
'He guided me and told me a little bit about his experience, what it had been like for him to come and play here when he made the decision,' Messi said in Spanish (translation via subtitles). 
'But at the same time he told me that things now were not the same because the league has grown a lot since his arrival.'
Eventually, after debating a return to Barcelona or a move to Saudi Arabia, Messi agreed to join Inter Miami this past summer.
'I came with great enthusiasm,' Messi said. 'My wife and I and our children have really been enjoying ourselves and we've been talking about what this could mean for us. And it was a nice start.'
Messi thanked Beckham and the Mas brothers (flanking Messi) for making his arrival easy
Messi said that David Beckham offered him guidance and told him about life in the USA
'We made this decision to bring Leo to Miami not just for us, not just for our fans – but we did it for the league, we did it for the sport and we did it for America,' Beckham said. 'But what comes with that is the eyes of the world.'
At Messi's highly dramatized made-for-TV presentation to the fans, he thanked Beckham and his Inter Miami co-owners: 'They are making everything easy for us, everything has been spectacular since we arrived.'
Messi added, 'I am very happy to have chosen this city with my family, to have chosen this project. I have no doubt that we are going to have a good time.'
Beckham made well sure of that. In addition to the grand entrance that Messi got via 'La Presentacion' the games he played in Miami became occasions of their own.
Long gone were the days that DRV PNK Stadium in Fort Lauderdale would be struggling to fill seats or find guests. With Messi in town, Beckham and the club made sure that celebrities packed the luxury boxes.
LeBron James, Serena Williams, Kim Kardashian, and many others turned up to watch the Argentine striker come off the bench in the Leagues Cup against Cruz Azul.
While everyone was there for the moment, it was Messi that made it magical – with a sublime free kick to win the first match of his time with the club.
That was the moment that his star power had truly arrived – and Beckham made sure Messi reaped all the rewards.
The Beckhams made sure that Messi's first match in Miami was an event no one should miss
Before the game, LeBron James gave Messi a hug to welcome him to Miami's sporting legends
Serena Williams and Kim Kardashian were also both on hand to witness Messi
He made sure the crowd went home happy with a free kick to win his first game 
He began to pamper Messi and showed him what the city had to offer.
Beckham took Messi and his fellow ex-Barcelona arrivals Sergio Busquets and Jordi Alba out for a decadent night on the town.
They met up with Miami nightclub owner David Grutman at Gekko Miami – a sushi restaurant and steakhouse with a club-like atmosphere.
The wives joined them all out as well as the group lapped up every moment.
But Leo wasn't the only one that was being pampered. His wife, Antonella Roccuzzo was treated to a 'girls lunch' with Victoria Beckham to celebrate the fashion launch of Grutman's wife, Isabela.
David Beckham and Lionel Messi celebrated Inter Miami's 4-0 win over Charlotte with Jordi Alba (second left), Sergio Busquets (second right) and David Grutman (right) 
Messi and his wife Antonela Roccuzzo have begun blending into the Miami social scene
The Beckhams have even made Messi's wife Antonela (center) like she's at home in Miami 
Antonela Roccuzzo (L) and Victoria Beckham (R) met up for a 'girls lunch' in Miami 
But it wasn't just the lavish nights out on the town that saw Beckham and Messi become the best of pals.
When Messi trained, Beckham oversaw things with a watchful eye on the sidelines. He even came down for a few drills and trained with the team.
Not only that, but he also tried one of Messi's simple pleasures – mate tea. Beckham posted a picture on Instagram with the caption 'If it's good enough for Leo'. 
But apparently, Leo disapproved of the brand – telling Beckham 'I'm going to make you drink some good mate'.
Beckham has made it a point to attend a number of Messi's team training sessions 
David Beckham has started drinking mate tea – one of Lionel Messi's favorite drinks 
Messi is well known for his love of mate tea and is often seen drinking it around games
Beckham's relationship with Messi has gone well both off the pitch and on it – after the Argentine helped Inter Miami lift the Leagues Cup, the club's first ever trophy.
But even still, there's room for improvement. Messi's arrival seemingly came too late to have an impact on his club's chances of making a spot in MLS Cup Playoffs.
Not only that, but the team fell to FC Cincinnati in the final of the US Open Cup – a tournament with much bigger standing than the Leagues Cup.
This season has served to set a baseline for expectations of what this team can accomplish with Messi at the helm.
Already he's delivered, and that is more than enough for Beckham to hang his hat on.
The two will have an entire offseason for Messi to rest and adjust further to his surroundings – plus all that time to help build a team.
It will surely see the bond between the two of them grow even stronger – and could produce a partnership between player and owner that will earn this team honors for years to come. 
Source: Read Full Article