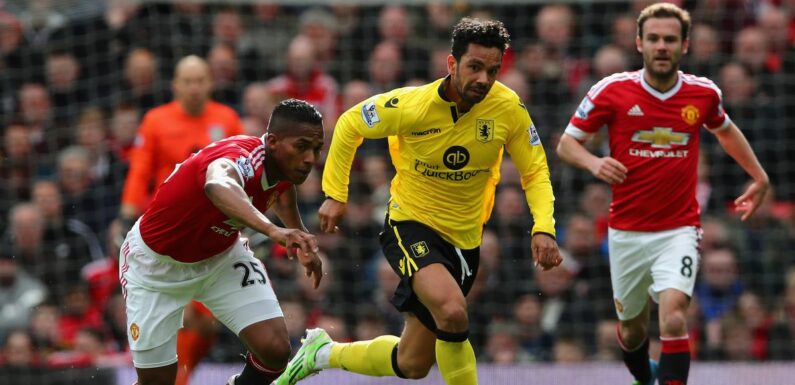 Ex-Manchester United star Kieran Richardson may have won a Premier League with the Red Devils but that didn't do much to stop his love for Arsenal.
The 38-year-old spent a year in the Man United youth team before he made his first-team debut in 2002. Richardson then spent the next five years at the club, where he won his maiden Premier League title in the 2006/07 campaign. He made 81 appearances for Man United, scoring 11 goals before going on to enjoy spells at Sunderland, Fulham and Aston Villa.
While his career began in Manchester, the London-born Richardson grew up an Arsenal fan as he used to watch the north London club with his father Clyde who was a season ticket holder. His love for the Gunners certainly didn't wane as he exclusively told Ladbrokes Fanzone that he tried to purchase a number of season tickets this campaign.
READ MORE: Alex Oxlade-Chamberlain reveals 'biggest difference' in mentality from Liverpool to Arsenal
READ MORE:Ex-Man Utd starlet who was 'Van Gaal's favourite' now struggling for game-time in Poland
Richardson admitted: "The funny thing is, I actually tried to get four season tickets for Arsenal this year. There's a suite at the Emirates called the Avenell Suite, and I put down a deposit for four tickets, because I wanted to take my family. And before the season started, they told me they could only get me two.
"That just wasn't going to work from me, because I wanted to come as a family; I didn't want to bring just one of my kids, so I've not done it this season." The 38-year-old wanted to enjoy the new-look Arsenal under Mikel Arteta who made a return to the Champions League this season for the first time since 2017.
Will Manchester United finish above Arsenal this season? Give us your thoughts in the comments section below
While Richardson may have to enjoy Champions League nights at the Emirates Stadium without enjoying the niceties of the Avenell Suite which include luxury padded seats as well as complimentary drinks and a full gourmet menu, the former midfielder is willing to wait until next year to secure the in-demand tickets.
"All of the fans have obviously renewed their memberships as well, because of the Champions League football. It's entertaining stuff, so it makes perfect sense that fans would want to go week-in, week-out. So, no, I didn't get the tickets this season, but maybe four will become available for me next year!"
Source: Read Full Article