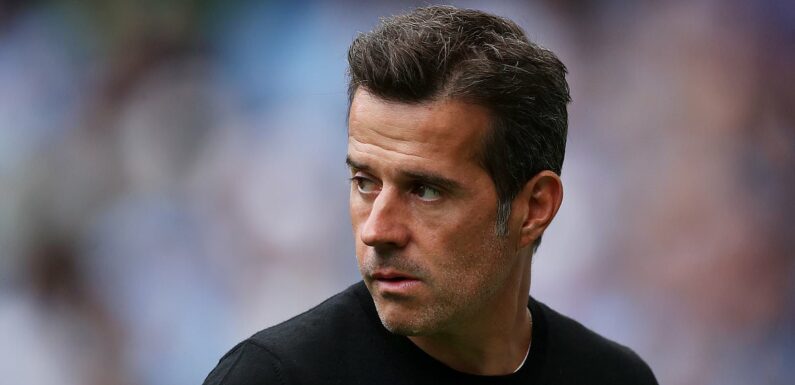 Fulham almost TRIPLE their most expensive season ticket prices while only three teams freeze fees from 2022-23… but how much is YOUR club charging for tickets this season?
Newcastle's cheapest season ticket was increased by 44 per cent on last season 
Liverpool have the cheapest match day ticket available in the league at just £9 
Listen to the latest episode of Mail Sport's podcast It's All Kicking Off! 
A study has shown that the most expensive season ticket in the Premier League is a seat at Fulham's Craven Cottage, with Marco Silva's side leading the likes of big-hitters Arsenal, Manchester City and Chelsea. 
Fulham only managed a tenth-place finish last term on their return to the top-flight, but announced a staggering 18 per cent rise in price for three sides of Craven Cottage – as well as charge up to £3,000 for their new Riverside Stand.
The Cottagers' most expensive season ticket last season ranked fourth-highest in the League (£1,050), but have since overtaken West Ham, Arsenal and Tottenham with a ticket costing a whopping £3,000 for a seat in the Riverside Stand in 2023-24.
Behind Fulham sit Spurs (£2,025), Arsenal (£1,895), West Ham (£1,620), Newcastle (£1,055) and Manchester City (£1,030), four pounds higher than Bournemouth for the most expensive tickets available, according to data from SeatPick.
In total, eight teams have seen increases of 10 per cent or more for their dearest options, with Fulham (186 per cent), West Ham (58 per cent), Bournemouth (35 per cent), Brentford (35 per cent) Newcastle (30 per cent), Aston Villa (16 per cent), Everton and Burnley (both 10 per cent), incurring a rise.
Fulham will have the most expensive available season ticket for the 2023-24 season after the opening of the Riverside Stand
The Cottagers finished 10th in the Premier League last term on their return to the top-flight
Newcastle have seen their cheapest available season ticket prices increased by 44 per cent
Your browser does not support iframes.
For the cheapest tickets available for prospective season ticket holders, the Hammers charge just £310, closely followed by Burnley (£335), Man City (£385), Sheffield United (£418.50) and Brentford (£419).
Meanwhile the cheapest fee Arsenal season tickets could cost is the highest in the division at £973.50, more expensive than the priciest options at 12 of their rivals. 
Prices were increased for both the cheapest and most expensive tickets at all but one club, with only Wolves decreasing their least costly option by 11 per cent, while the likes of Chelsea and Tottenham saw no increase across both options. 
Manchester United's most expensive season ticket remains priced at £950, also seeing no increase, much like Brentford's least expensive option which is still only £419.
Bournemouth's tickets have been increased for the first time since 2015-16, with the most reasonably priced option at the Vitality Stadium (£590) costing almost double the price of the equivalent at the Treble-winners City (£385). 
For Newcastle fans looking to pick up the cheapest possible season ticket to watch their club, they have seen prices rocket by some 44 per cent, from £417 to £600 as their side return to the Champions League. 
Standard tickets have also seen a rise in price at St. James' Park with the most expensive option setting fans back to the tune of £70, although cheaper seats have dropped to £32 from £36.
However, a new balloting system at the Magpies has seen those entering lose the option to choose the price of the seats they are allocated, and they will be allotted a seat at random. 
Chelsea's season ticket prices were frozen after 2022-23, with the cheapest priced at £750 and the most expensive £940
Tottenham have the second most expensive ticket at £2,025 but their prices have remained the same as last term
Liverpool's most expensive season ticket will cost fans £886 – up two per cent – but they boast the cheapest day ticket at just £9. 
Reds fans will therefore have the bragging rights over their Merseyside rivals Everton, who are charging fans £55 now for their cheapest seats – up 38 per cent from last term. 
Only Treble-winners City are charging more for their cheapest day tickets, with fans expected to shell out £58 to watch the European champions in action. 
Data on Premier League season ticket prices supplied by SeatPick.com
IT'S ALL KICKING OFF! 
It's All Kicking Off is an exciting new podcast from Mail Sport that promises a different take on Premier League football.
It is available on MailOnline, Mail+, YouTube, Apple Music and Spotify.
Your browser does not support iframes.

Source: Read Full Article