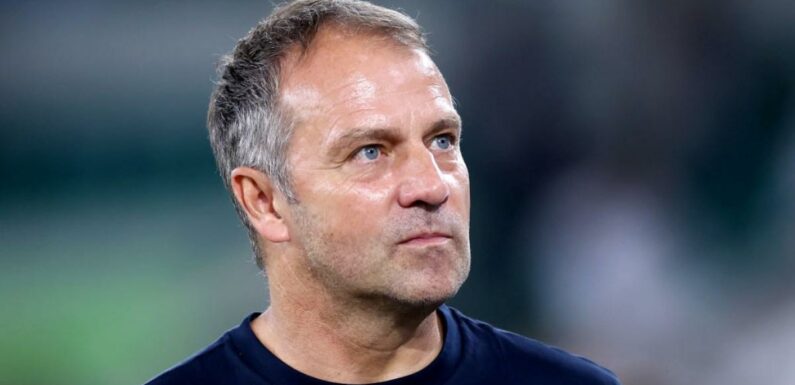 The Germany national football team have sacked manager Hansi Flick just nine months before the country hosts Euro 2024.
This comes after Germany suffered a horrific 4-1 loss to Japan on Saturday, with Flick becoming the first German head coach to be sacked since the role was created in 1926
The 58-year-old's position was already at serious risk after an incredibly poor run of form, with the Japan defeat his country's fourth loss in five games.
He also oversaw Germany's humiliating group stage exit at the 2022 World Cup in Qatar.
Overall, Flick won just 12 of his 25 games in charge, with his only victories in the past 12 months coming against Oman, Costa Rica and Peru.
A statement from the German Football Association (DFB) read on Sunday: 'After a recommendation from DFB president Bernd Neuendorf, the presidential board of the DFB GmbH and Co. KG has decided to relieve Germany coach Hansi Flick, plus his assistants Marcus Sorg and Danny Rohl, of their duties with immediate effect.
'Rudi Voller, Hannes Wolf and Sandro Wagner will take charge of the team for the game against France in Dortmund on Tuesday. The DFB are hoping to announce Hansi Flick's replacement as soon as possible.'
Neuendorf added: 'The committee agreed that the German national team needs a fresh impetus after the recent disappointing results. Going into the European Championship next summer, we need confidence and optimism in the country regarding our team.
'This has been one of the most difficult decisions I have had to make during my time in this role because I really respect Hansi Flick and his assistants, both on a professional and personal level. Sporting success is of the upmost importance to the DFB, which is why this decision had to be made.'
Flick had previously served as assistant manager to his predecessor Joachim Low for eight years, winning the 2014 World Cup in the process.
He became Bayern Munich boss in 2019, leading the Bundesliga giants to a historic treble in his first season in charge before leaving to takeover the Germany job from Low in July 2021.
As the host nation, Germany have already qualified for Euro 2024 and are set to play four more friendlies in 2023 against France, USA, Mexico and Austria.
For more stories like this, check our sport page.
Follow Metro Sport for the latest news onFacebook, Twitter and Instagram.
Source: Read Full Article