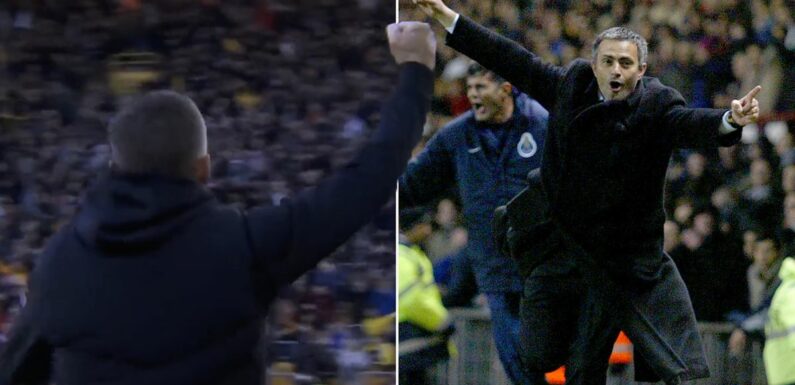 Bookmark
For the latest from the pitch sign up for our football newsletter
Thank you for subscribing!
For the latest from the pitch sign up for our football newsletter
We have more newsletters
Gary O'Neil went flying down the touchline in celebration as Wolves snatched three points against Tottenham Hotspur with the last kick of the game.
Wolves came from behind against Spurs in Saturday's Premier League lunchtime kick-off in incredible fashion. Pablo Sarabia scored a spectacular volley to level the scores in the first minute of injury time in the second half.
Mario Lemina then blew the roof off Molineux as he guided the ball home into the far corner with the final kick of the game in the seventh minute of added time. Celebrations on the pitch and stands went ballistic, while O'Neil went running off down the touchline – punching the air and cheering towards the fans.
READ MORE: Spurs and Wolves stars become first Prem stars to wear bodycams as TNT trial new tech
READ MORE: Inside Everton's new stadium with seats installed and cranes covering pitches
O'Neil's celebration brought back memories of Jose Mourinho's iconic celebration where he went sprinting down the touchline at Old Trafford as his Porto side knocked Manchester United out of the Champions League before going on to lift the trophy in 2004.
TNT pundit and former team-mate of O'Neil's at West Ham Joe Cole joked that the Wolves boss has 'never run that fast in his career' than what he did when sprinting down the touchline as cameras captured him turning and racing away from the dugout.
What did you make of Gary O'Neil's celebration? Let us know in the comments section.
O'Neil recently chose not to celebrate after Wolves' goals against his former side Bournemouth, he argued: "I haven't celebrated often, I don't think, when my team's scored. I don't celebrate too many."
But there was no stopping him this time as the ecstasy of a last-gasp winner was etched all over his face. Wolves' win sees them climb to 12th in the table before anyone else plays this weekend. Ange Postecoglou has now been condemned to back-to-back defeats after previously guiding Spurs to be the only unbeaten side left in the league earlier this week.
Premier League
Jose Mourinho
Wolves FC
Tottenham Hotspur FC
Source: Read Full Article