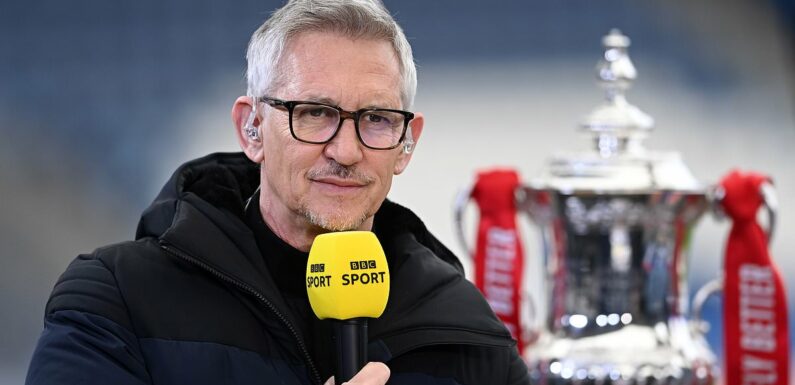 Gary Lineker reveals his Match of the Day contract expiry date – as he opens up on his impartiality row with the BBC and the importance of politics in sport
Gary Lineker has revealed how long remains on his Match of the Day contract 
The presenter also opened up on the impartiality row from earlier this year 
It's baffling why Guardiola sold Palmer to a rival club – It's All Kicking Off 
Gary Lineker has revealed how long he has left on his Match of the Day contract.
The former England striker has presented the BBC show, which still gets four million viewers, since 1999. 
Jermaine Jenas jokingly told Lineker that he was not coming for his job 'for now' in a recent episode, though he does want the role in future. 
And now Lineker has revealed how long he has left in a wide-ranging interview with GQ.
The ex-Leicester and Barcelona man spoke about the BBC impartiality row after his tweet regarding the government's rhetoric towards migrants as well as the place of politics in sport. 
Gary Lineker has revealed how long he has left on his Match of the Day presenting contract 
The broadcaster and ex-footballer has two years remaining on his current deal with the show
Your browser does not support iframes.
It turns out he has just two years left on his contract.
He told GQ: 'I've got two years left [contractually]. Beyond that it depends on the rights because the BBC have got to keep winning the rights to show the highlights. The Premier League have been very clever, making sure that there is a show on terrestrial television to maintain interest in the sport, as still over half the public don't have Sky or BT. So hopefully that will continue.'
In March, Lineker tweeted that the government's language surrounding the arrival of small boats on UK shores was comparable to that of 'Germany in the 1930s' towards Jewish people. 
It sparked a huge impartiality row. Lineker was taken off air by the BBC due to their stringent impartiality rules, but that prompted a walkout of colleagues.
Nobody could be found to present Match of the Day in his place and so the show aired an eerie edition with no presenting nor commentary, just the highlights. 
That was a first in the show's 59-year history and while some contrarian folk thought it was better as a result, the general sentiment was that football missed its accompanying voices.
Lineker was reinstated on air and the BBC introduced new rules for high-profile presenters meaning they can express views on issues and politics so long as they refrain from political campaigning. 
It was a victory for the BBC's highest-paid star on £1.35million per year. 
'The only irritating thing was that [journalists] stood outside my house from seven in the morning till 11 at night,' Lineker told GP about the subsequent press attention. 'My boys were great. They came and walked the dog. Every time I did, I was followed. It was a really strange experience.'
Lineker often faced a throng of reporters when he left his home during the impartiality row
Jermaine Jenas joked that Lineker's Match of the Day job is safe 'for now' – but previously admitted he would like to succeed him one day
Where did his desire to speak out come from? 'I think it's gradually crept in. I don't think I was like that, certainly, in my twenties – I was a fairly cold, driven, ambitious footballer. Insular, probably. 
'And then, I don't know: kids change things, lots of things that happen to you in your life change you. My eldest was seriously ill when he was a baby. You start to develop more of a social conscience. I think as you get older, certainly with me, you get softer.'
Lineker, 62, is a strong believer that sport and politics intersect, and that that should be acknowledged and explored, but some don't agree. 
He said: 'It's an absurdity, and the only time people ever say it is if they disagree with what you're talking about. Everyone's absolutely happy with you having all sorts of opinions, if they agree with them. Politics seeps into everything.'
IT'S ALL KICKING OFF! 
It's All Kicking Off is an exciting new podcast from Mail Sport that promises a different take on Premier League football.
It is available on MailOnline, Mail+, YouTube, Apple Music and Spotify.
Your browser does not support iframes.

Source: Read Full Article