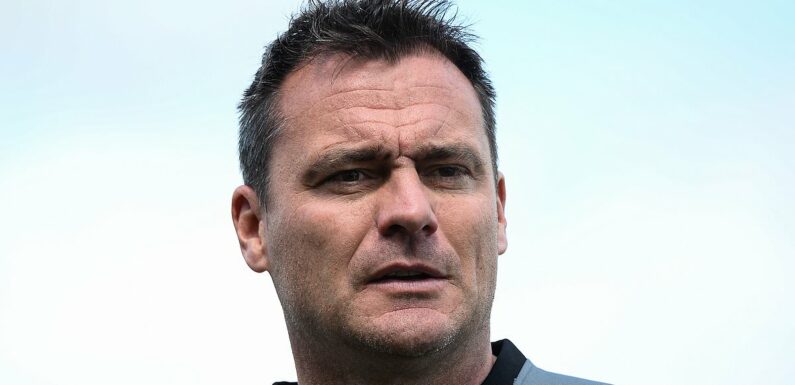 Former Newcastle goalkeeper Steve Harper suffers a brain haemorrhage as the Magpies confirm the club's academy director is 'recovering well in hospital'
Newcastle have revealed Steve Harper suffered a brain haemorrhage this week
Harper played for Newcastle for 20 years and is now the club's academy director
Listen to the latest episode of Mail Sport's podcast It's All Kicking Off
Newcastle have confirmed their former goalkeeper Steve Harper suffered a brain haemorrhage earlier this week.  
The club released a statement on X on Wednesday afternoon revealing his health scare which led to him being rushed to hospital, but announced that he is currently 'recovering well'.
'Newcastle United is sending love and best wishes to Steve Harper and his family after the club's Academy director suffered a subarachnoid haemorrhage on Monday,' the statement read.
'The club is pleased to report that Steve is awake and recovering well in hospital.'
A subarachnoid haemorrhage occurs when there is bleeding in the space around the brain which puts increased pressure on the vital organ.
Newcastle have confirmed Steve Harper suffered a brain haemorrhage on Monday
Harper spent 20 years at Newcastle as a player before being named the club's academy director
Your browser does not support iframes.
Newcastle's statement that Harper is awake and beginning his rehabilitation will be a major relief to Magpies fans, with Harper widely considered a local hero. 
Harper spent 20 years at St James' Park as a player between 1993 and 2013, and returned to the club initially as a goalkeeping coach before being made academy director following his retirement.
The 48-year-old made 199 appearances for his hometown club, including 45 in 2009-10 when the team secured promotion back to the Premier League by winning the Championship.
He also started the 1999 FA Cup final against Manchester United which the Red Devils won 2-0 before completing a historic Treble under Sir Alex Ferguson. 
After departing the club a decade ago, Harper moved to Hull City for two years, before having a brief spell at Sunderland.
Harper did not make a senior appearance for the Black Cats, though, and called time on his playing days in 2016.
IT'S ALL KICKING OFF! 
It's All Kicking Off is an exciting new podcast from Mail Sport that promises a different take on Premier League football.
It is available on MailOnline, Mail+, YouTube, Apple Music and Spotify.
Your browser does not support iframes.
Source: Read Full Article