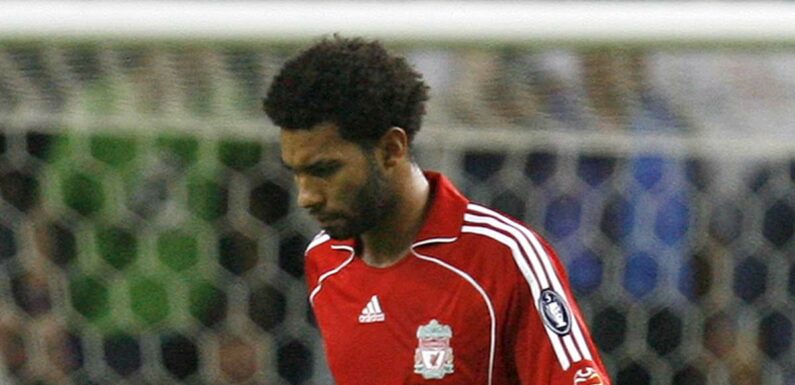 EXCLUSIVE: Ex-Liverpool star Jermaine Pennant opens up on his unfair 'bad-boy' tag during his career, being 'thrown in the deep end with no support' and how SAS: Who Dares Wins helped him banish his 'demons'
Jermaine Pennant has opened up about his mental health struggles as a player
He said his profile 'went up' by punching Matt Hancock on SAS: Who Dares Wins
Listen to the latest episode of Mail Sport's podcast 'It's All Kicking Off!' 
Former Liverpool star Jermaine Pennant has opened up on his mental health struggles as a player, claiming he 'spiralled' after wrongly being given a 'bad boy' image and was 'thrown into the deep end with no help'.
Now 40 years old, Pennant endured a difficult upbringing and never strayed too far from the spotlight during a career that has seen him battle alcohol addiction, spend time in prison and later declared bankrupt. 
Pennant, who once earned £80,000-a-week at the height of his fame, feels he was often misunderstood as he constantly made headlines for the wrong reasons – but claims he was never given a support system to cope. 
Having recently appeared on SAS: Who Dares Wins, he feels the show finally helped him to release those 'demons' he had fought for so long.
'I came from a very poor background and upbringing, a difficult one, and then to be thrown in the limelight – every move you make, whether it's good or bad, gets thrown in the spotlight,' he told Mail Sport, via Minimum Deposit Betting Sites.
Jermaine Pennant has spoken on the unfair 'bad-boy' image he was given during his career
https://youtube.com/watch?v=o4WqzcUwhag%3Frel%3D0
Your browser does not support iframes.
'I didn't know how to deal with that and a lot of my mistakes were publicised, which then gave me a tag – a bad boy image, which was far from. I was just a young kid, not having no support, making stupid mistakes with no advice and no guidance. 
'Then you kind of live up to them. You kind of think, "Well, that's just the way I am. They made me this way", and you kind of just live that kind of life. You find yourself in a dark place and a spiral.
'I think [SAS: Who Dares Wins] helped me get [demons] out rather than trying to deal with it on my own 'Releasing those issues and what I went through was a big relief and a big weight off your shoulders too. When I was reading out my story and getting emotional, knowing that the nation is going to see that, that's the first time I was able to show my vulnerability and it just felt like a lot of stress and pain was washed away.'
Pennant became something of a journeyman – starting his career with Notts County before moving to Arsenal and later Brimingham City and Liverpool – and ended up featuring for 15 different clubs. In 2018 he revealed how he was hungover on his Arsenal debut in 1999 before multiple drink-drive offences. 
During a spell at Spanish side Real Zaragoza he came under fire for leaving his Porsche near a rail station in the city and racking up five months' worth of parking tickets. 
Controversy has followed him into life as pundit too – he was accused of being 'drunk' by viewers while working for Sky Sports in 2020 before being taken off air.  
Pennant also discovered he had ADHD earlier this year – claiming it made him feel like a 'lunatic' and he believes had he addressed his condition and other mental health problems sooner, he might have found a 'better path and better future'.
Mental health has been given plenty of traction for modern day footballers – but Pennant insists players in his generation felt they had to 'put on a brave face' before 'going into a dark place'. 
The ex-Liverpool star insists he was given 'no help or guidance' and 'thrown in the deep end'
Now aged 40, Pennant believes he could have made better choices had he addressed his issues sooner
Pennant often made headlines for the wrong reasons – including over a 30-day spell in jail – and admits he went into a 'dark place'
'I had trauma, mental issues and with no help,' he added. 'I was just thrown in the deep and left to my own devices. I think any child or any adult, with all those things going on in the background, would find life difficult and look for some escapism. 
'Back then you would go to training or into the dressing room and you would put on a brave face. You would go there like, "life's amazing". And then as soon as training's finished, you will go home and you'll go into your dark place, wherever that may be. You'll go into your comfort zone. 
'In the football world at that time, it didn't feel comfortable speaking to someone because you didn't want to seem weak. You didn't want to lose your place in the team because the manager may think you're not in the right place. And then if not playing on top of that, that's just another kick in the teeth. 
'It's a hard place especially when there's no one there supporting you, you've got no one to talk to and then you just find yourself in a sad place and that's where you kind of go off the rails.'
Footballers' mental health struggles have been publicised in recent years – with Man United star Jadon Sancho taking time off to deal with his own issues, while Dele Alli has confessed to spending time in rehab due to addiction and considering retirement aged 24.
Pennant added: 'You do live a good life with the money and houses, but just because you're financially secure that doesn't mean there isn't other issues going on in that person's life. 
The former winger recently revealed he was hungover while making his debut for Arsenal
Pennant insisted footballers still have the same problems as everyone despite their luxury life
'We're human, we all have the same problems. Money doesn't make everyone happy. I think people forget that – just because you've got a house and a great car, doesn't mean you can be perfect on the inside.'
While Pennant has not always made headlines for good reasons – he jokes he did 'up his profile' after being forced to fight former health secretary Matt Hancock on SAS: Who Dares Wins. Hancock came under fire during the pandemic after breaching government guidance on social distancing.
'I've got a lot of good feedback from that [Matt Hancock punch]. I think it really put me up on my profile! The nation liked it, so instead of a bad boy I'm more of a hero.'
Speaking on the experience, Pennant called it 'life changing' and one that helped him become 'vulnerable' with his emotions and past trauma. 
'It was a life changing experience – an amazing experience and it was brutal,' he said 
'I feel like I've learned so much from it, pushing your body to the limits that I didn't think I would go to. Overall I just really, really enjoyed. When I look back, it was memorable.'
He recent went on Channel 4 show SAS: Who Dares wins and says it helped him release his 'demons'
Pennant joked his profile 'went up' after he was forced to punch former health secretary Matt Hancock while filming
When asked what the biggest things he took from the experience, he said: 'Being vulnerable, not hiding behind certain things and trying to be macho man. It's good to show your emotional side and showing people that you're in pain. I think opening up is the biggest thing that I've learned and also just knowing that when things get hard, I can still continue to carry on and not shy away from things. 
'There were times where I was like, "I can't go anymore, just call it, you can stop". When you do football training you can stop, but in SAS you've got to continue or you fail. There were times where I called upon [Premier League experience] when I was carrying massive tyre up a hill. 
'I thought in football when you're tired and you've got five minutes left on the clock and you've got to track back and help the team when you're 1-0 up or get a draw. You've just got to find something in you – even if your legs won't let you – just for the team.
'Any athlete going into this you're going to have an advantage because of your endurance, but in the SAS it doesn't matter what life or work you come from. It's tough no matter what. Even if you are an athlete, the kind of things that they throw at you – you never practice them in training so it doesn't matter where you come from.'
IT'S ALL KICKING OFF! 
It's All Kicking Off is an exciting new podcast from Mail Sport that promises a different take on Premier League football.
It is available on MailOnline, Mail+, YouTube, Apple Music and Spotify.
Your browser does not support iframes.

Source: Read Full Article