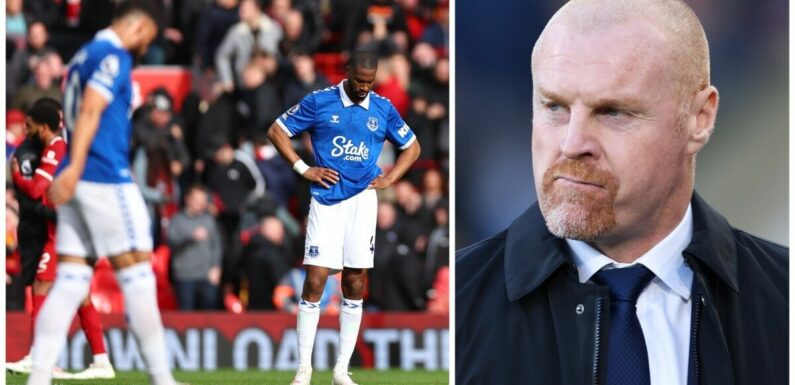 Everton could be hit with a further points deduction that may push them closer to relegation from the top flight as rival clubs prepare to launch a legal challenge. The Toffees have already had 10 points deducted from them this season by the Premier League for breaching financial regulations, and the Merseyside club's woes could be exacerbated with a second deduction of nine points, according to reports.
Everton were referred to an independent commission in March for alleged breaches relating to the 2021-22 season before a hearing took place last month.
And their punishment was confirmed when the Premier League announced on Friday that the club had been hit with a 10-point deduction effective immediately, causing them to slide down to 19th in the table with just four points on the board.
But a further nine-point deduction could put their hopes of surviving relegation in jeopardy as Sean Dyche's side would plummet to rock-bottom in the standings with -5 points to their name and only 26 games to get themselves out of trouble.
READ MORE Dyche sends clear message to Everton players over potential 12-point deduction[LATEST]
Burnley, Leeds and Leicester are set to launch a compensation claim against Everton, which would be heard by another three-person panel appointed by the Premier League before the end of the season. If they are forced to pay up a figure which could run into tens of millions of pounds, the club may be forced into administration, according to the Daily Mail. 
Three clubs are understood to be preparing a claim totalling £100m each based on the loss of earnings that being a Premier League would have given them, with the trio all sliding into the Championship while Everton have survived relegation battles in recent years.
That is because Everton's current owners, 777 Partners, reportedly do not have the funds to settle the compensation bill. The agreement between former chairman Farhad Moshiri and 777 in September is said to contain clauses that state the sale price will be reduced if Everton are instructed to pay compensation or relegated from the Premier League.
Support fearless journalism
Read The Daily Express online, advert free
Get super-fast page loading
DON'T MISS
Everton face 'being sued for £300m' by three clubs after breaking Prem rules[GOSSIP]
Chelsea and Man City 'could face relegation' after Everton points deduction[NEWS]
Premier League history may be about to repeat itself much to Everton's relief[COMMENT]
In that case, it could leave the club facing administration which triggers an automatic nine-point penalty, as introduced by the Premier League 19 years ago.
Everton have already stated their intention to appeal against the punishment, which is the strongest financially-related penalty handed to a club since the establishment of the Premier League in 1992.
A club statement read: "Everton Football Club is both shocked and disappointed by the ruling of the Premier League's commission.
"The club believes that the commission has imposed a wholly disproportionate and unjust sporting sanction. The club has already communicated its intention to appeal the decision to the Premier League. The appeal process will now commence and the club's case will be heard by an appeal board appointed pursuant to the Premier League's rules in due course."
Source: Read Full Article