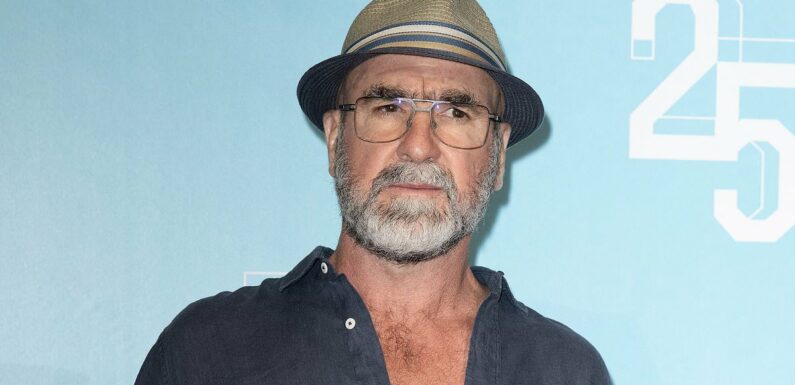 Man United legend Eric Cantona announces release of debut album ahead of a SOLD-OUT tour… with his EP containing 'a swaggering rock offering' and a 'psychedelic trip-hop' song
Cantona announced his switch to the world of music with a single back in June
The Man United legend is to release his first album ahead of a UK sell-out tour
Listen to the latest episode of Mail Sport's podcast 'It's All Kicking Off!'
Eric Cantona's venture into the world of music has taken another step, with the Manchester United legend set to release his debut album, ahead of a sell-out tour.
The 57-year-old Frenchman released his first single 'The Friends We Lost' back in June, with the former striker singing about 'laughing and drinking with the vampires' in a moody video to coincide with the song.
'King Eric's' transformation into a musician, which probably comes as little surprise to those that have followed his career and even after his retirement, moves another step forward this month.
His debut EP, 'I'll Make My Own Heaven,' is released on October 20 and includes a mixture of songs sung in English and French.
He will then embark on a five-date tour later this month with back-to-back shows at Manchester's Stoller Hall on October 26 and 27, London's Bloomsbury Theatre on October 28 and 29, before concluding at Dublin's Liberty Hall on October 31. 
Eric Cantona has announced the release of his debut EP ahead of his sell-out UK tour
Cantona's EP 'I'll Make My Own Heaven' includes songs sung in English and French including a 'swaggering rock offering' and an 'intimately psychedelic trip-hop' number
As well as 'The Friends We Lost' the press release for his album says the EP will include French sung 'Tu Me Diras,' a 'swaggering rock offering' named after the album's title and an 'intimately psychedelic trip-hop' number called 'Je Veux'.
Cantona, describing writing music, said: 'Writing is a way for me to exist, as only my existence can result in writing this way.'
He added: ''Why start today, so many years later? Simply because I had lacked the time before.
'During lockdown, I finally managed to give the guitar a serious go, and even though I'm still a poor guitarist, I felt confident enough to whip a few songs into shape.'
The upcoming tour won't be a one-off, as Cantona said next year he will be playing with a band, as the upcoming dates he will be starting with a 'modest piano and cello' to play with him.
He added: 'I'll be starting in Manchester, because it's a city that has stayed with me so much. For the football of course, but also the general atmosphere'.
His debut single was rich with imagery and showcased his individual poetic style, singing about a 'red snake in the water' as well as 'laughing and drinking with vampires.
The accompanying video cuts between the former forward surrounded by a band playing in an abandoned industrial landscape, moodily shot in black and white, and scenes in colour following a teenager.
Cantona has announced his music career in June with the release of his new single and its video
In a moody-themed video he sings about 'laughing and drinking with the vampires' 
Between shots of Cantona, the video sees the boy coming face to face with an eerily-similar aged mask of himself, the following figures in black along a disused train track.
Later in the video, the camera tracks the hooded figures processing down a beach and into the water, whilst Cantona croons into a vintage-style microphone.
In a press release on the single's launch back in June, Cantona compared the song's spirit to that of an 'eagle'. 
'When I'm asked how I'd like to be reincarnated, I always say: as an eagle. The lyrics are meant for this eagle, I ask it how it feels in full flight, surrounded by silence and the wholeness,' Cantona said. 
King Eric' retired from playing at the age of 30 after star-studded stints at Leeds and Man United saw him win five league titles in six seasons.
He had many memorable quotes during and after his career, with his most famous coming after his infamous 'kung-fu kick' on an abusive supporter in the stands at Selhurst Palace in 1995.
https://youtube.com/watch?v=2PUD55EhIAg%3Frel%3D0%26start%3D210

Cantona retired from football in 1997 after star-studded stints at Leeds and Manchester United
In a press conference, Cantona refused to answer questions, saying only: 'When the seagulls follow the trawler, it's because they think sardines will be thrown into the sea. Thank you very much.'
Cantona also showed off his love of language during the 2019 UEFA Champions League draw, whilst being awarded the organisation's President's Award.
After first quoting from William Shakespeare's 'King Lear', Cantona added: 'Soon the science will not only be able to slow down the ageing of the cells, soon the science will fix the cells to the state and so we will become eternal.
'Only accidents, crimes, wars, will still kill us but unfortunately, crimes, wars, will multiply. I love football. Thank you.'

Source: Read Full Article