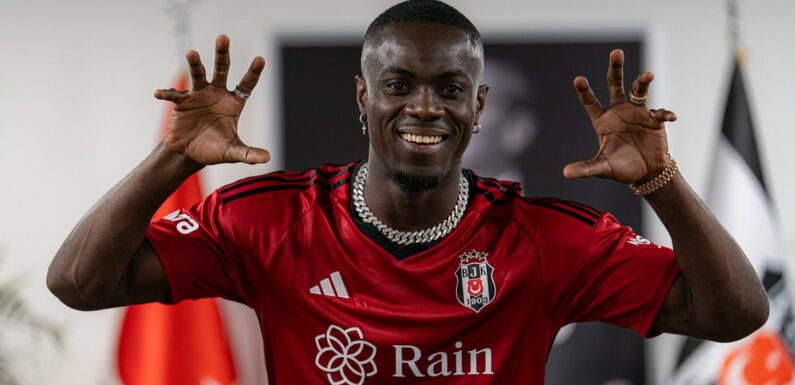 Former Man United star Eric Bailly caught in heated clash with his own TEAM-MATE during Besiktas defeat, before defender claims 'competitive tension' caused on-pitch bust-up
Eric Bailly was substituted after getting into a bust-up with Besiktas team-mate 
The former Man United player later apologised to fans via a post on social media 
Big debates on Man United, Arsenal and Liverpool on It's All Kicking Off podcast 
Ex-Man United defender Eric Bailly was caught in a heated bust-up with his Besiktas team-mate before getting substituted at half-time by their manager.
The incident occurred midway through Besiktas' league clash with Antalyaspor, where the visitors were handed a disappointing 3-2 defeat. 
Bailly was unable to prevent his side from suffering the loss after getting removed at the break, following the unsavoury scenes on the pitch.
Prior to half-time, Bailly was seen marching towards team-mate Tayfur Bingöl before reaching out and pulling the midfielder by his shoulder. 
Bingöl was swung around and met by the Ivory Coast international, who was clearly fuming at an incident earlier in the match. 
Former Man United defender Eric Bailly confronted Besiktas team-mate Tayfur Bingöl just moments before half-time, during their clash against Antalyaspor
Bailly later took to Instagram to apologise to his manager, team-mates and the Besiktas fans
Your browser does not support iframes.
Gedson Fernandes, who spent a season on loan at Tottenham, stepped in to intervene and defuse the situation, however it clearly boiled over into half-time. 
During the break, Bailly was replaced by full-back Valentin Rosier and, in the 12 minutes that followed, Besiktas leaked three goals.
The central defender later took to his Instagram story to explain his actions to fans and claimed that 'competitive tension' caused the on-pitch bust-up.  
'Competitive tension pushes us to greater success, and that is all we want,' Bailly wrote.
'We all want to win and want the best. I apologize to the manager, my team-mates and Besiktas family for my mistake. Heads up and focus on the next one.'
Interim manager Burak Yilmaz later confirmed that Bailly's substitution was due to his 'inappropriate' actions.
Yilmaz said: 'There was a problem with Eric Bailly during the half-time. That's why I took him off. 
'There is no injury situation. I took him out of the game due to an inappropriate move.'
Besiktas lost the match after Antalyaspor scored three goals in 12 minutes after half-time
Bailly signed a one-year deal with the Turkish giants after leaving Man United in the summer
In summer, the Ivorian defender left Old Trafford after seven years, having originally joined the club for £30m from LaLiga side Villarreal.
Bailly made 113 appearances for United in all competitions, scoring his one and only goal in a match with Swansea back in 2017. 
In a message on social media, Bailly wrote: 'As I leave this club after many years of incredible memories, outstanding teammates, and trophies, I want to express my profound gratitude. 
'This chapter may be closing, but the friendships and memories will forever remain in my heart. The fans here are the real champions. Thank you for everything, forever United.'
IT'S ALL KICKING OFF! 
It's All Kicking Off is an exciting new podcast from Mail Sport that promises a different take on Premier League football.
It is available on MailOnline, Mail+, YouTube, Apple Music and Spotify.
Your browser does not support iframes.

Source: Read Full Article