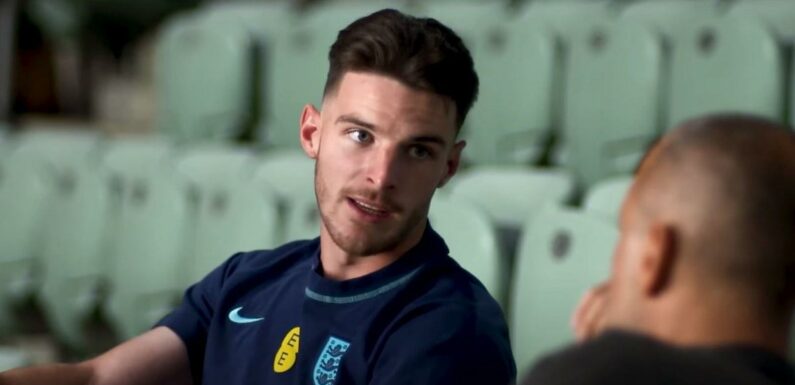 Declan Rice admits he has been 'surprised' by Jorginho's quality in Arsenal's training sessions and says the former Chelsea midfielder is an 'outstanding trainer'.
Arsenal news, exclusives and analysis
Rice completed his £105 million move to the Gunners in the summer and has settled quickly into the centre of Mikel Arteta's midfield.
Jorginho, meanwhile, joined Arsenal in a £12m deal from Chelsea in the January transfer window.
Rice is yet to start alongside Jorginho in Arsenal's midfield this season but says he is keen to learn from the Italy international.
'The one who has surprised me so much, not surprised me because I knew he was such a good player anyway, but playing with him every day in training, seeing how he is because he's not the biggest, is Jorginho,' Rice told Channel 4.
'His brain, the way it works as a holding midfielder, I've just been trying to pick up little things off him.
'He's always in position, always knows when to pass, always creates time for himself. He's an outstanding trainer and I've been trying to take little bits from his game as well.
'I'm trying to learn from everyone, to be honest. I'm only 24, I've got all the abilities myself, but there are still things to add to get to the top, and that's what I want to do.
'The way we want to play out from the back and how pivotal my position is in that, always being there to be an out-ball, to be a free man, I'm really enjoying it.
'We never really used to do that in our time at West Ham so it's kind of going out of your comfort zone a bit, also if I'm doing it more you build so much confidence, which is really good and that is what I want.'
For more stories like this, check our sport page.
Follow Metro Sport for the latest news onFacebook, Twitter and Instagram.
Source: Read Full Article