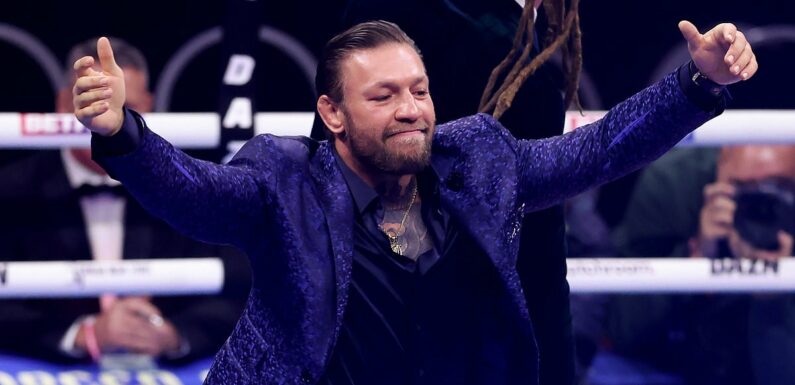 Conor McGregor's manager refuses to rule out future fight with Jake Paul, as he admits the UFC legend will 'look at options' after making a return to the octagon
Conor McGregor's manager has refused to rule out a future fight with Jake Paul 
Paul and McGregor have previously traded verbal blows on social media 
Eddie Hearn on his greatest-ever boxing venue: Listen here to The Hook 
Conor McGregor's manager has refused to rule out a potential fight with Jake Paul in the future, as he admitted that you can 'never say never'. 
McGregor and Paul have previously traded verbal blows online, such as when the UFC lambasted latter's victory over Nate Diaz back in August. 
Paul triumphed over McGregor's former UFC rival before the Irishman took to social media and labelled the fight as a 'garbage' bout. 
Now, in the wake of Paul announcing his next bout against Andre August, McGregor's manager has suggested a fight between them could one day happen. 
Speaking to Fox, Audie Attar said: 'I think the challenge with combat sports is looking that far ahead. You never say never. 
Conor McGregor's agent has refused to rule out a potential future fight with Jake Paul
Paul has made a name for himself in boxing after taking on a number of former UFC stars
'Getting back into the octagon is step one, going in and handling business there. Then, not looking past that, but then, obviously, when you get past that, look at your options and see what's next'.
McGregor has not fought inside the octagon since July 2021, when he suffered a consecutive defeat to American lightweight Dustin Poirier. 
The Irishman lost via doctor's stoppage after breaking his leg during the first round of the bout. 
Despite this, McGregor is keen to secure a return to the octagon and, according to UFC chief Dana White, is in line to fight next summer. 
'He's good, he's ready,' White exclusively told Adam Glyn. 'He wants to [fight]. He's got to sit out for the six months to get back into the drug-testing pool. So realistically… could be looking at him next summer.' 
McGregor addressed his readiness at the Francis Ngannou vs. Tyson Fury event in Saudi Arabia earlier this month, while teasing a potential boxing match with legend Manny Pacquiao, the 35-year-old also hinted a UFC return in April. 
'April is a lovely run up for me and I'd be happy with that,' McGregor said. 'I'm in a good spot, I've been training – I've been leaving also. But I've been training and April seems like a good time to come back.' 
In April, Paul challenged McGregor to a boxing match as the social media sensation claimed he is a 'better boxer' than the UFC star.
McGregor has not fought inside the octagon since July 2021, when he suffered a broken leg against American lightweight Dustin Poirier
Audie Attar (second from the right) admitted the Irishman will 'look at his options' in the future
The American YouTuber-turned boxer took to his social media platforms after McGregor said Nate Diaz will 'slap his head off' in the pair's matchup in August.
Paul called out the Irishman in response on Sunday, writing on his social media platforms: 'I'm a better boxer than you Conor and will do what you couldn't and knock Nate out. 
'After Nate let's box as the co main event same night as Katie Taylor vs. Amanda Serrano in Dublin. 
'But since you're not your own boss you will hide behind Dana or just drink the rest of your life away. August 5th you will see.'

Source: Read Full Article