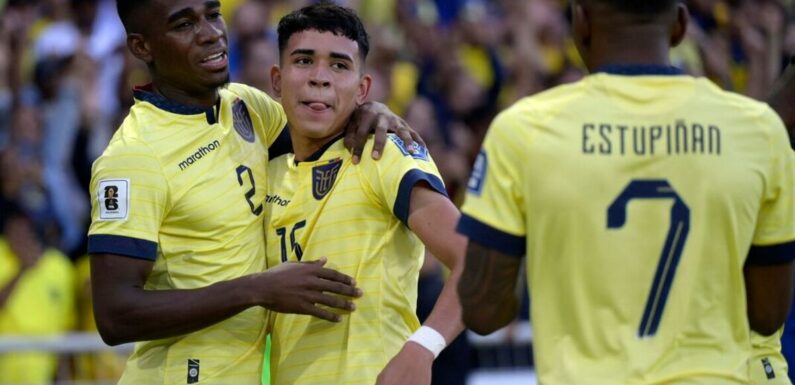 Mauricio Pochettino was left a Chelsea gift by Thomas Tuchel and a £150m headache
Ecuadorian wonderkid Kendry Paez, 16, has sent international media into a frenzy after an impressive debut for his senior national team on Tuesday. The youngster, who is set to join Chelsea in the summer of 2025 once he turns 18, starred alongside future Blues team-mate Moises Caicedo in a 2-1 victory over Uruguay at the Estadio Rodrigo Paz Delgado.
Despite his juniority, Paez started on the right wing for Ecuador, putting on a performance that oozed class. By the time he had left the pitch, with some 20 minutes to go, he had laid on the winning goal and dazzled everyone in attendance with his fast feet and impressive link-up play.
Brazilian outlet Globo Esporte sang Paez's praises in a feature article appearing on their website as they declared that he had put on a display that 'far exceeded his years'. The report goes on to add that Paez now holds three records. The youngest player to feature for Ecuador, to start a South American World Cup Qualifiers match, and to record an assist in the competition.
In Argentina, Paez's debut was also a big story for Olé. They wrote that Blues fans should be "excited" by the acquisition of Paez, especially given his "connection" with compatriot Caicedo.
Meanwhile, the Spanish newspaper Diario AS printed a story about Paez, entitled "A Star Is Born". "Todd Boehly's Chelsea were able to get ahead of the game and sign Paez earlier this year for 20 million," they wrote.
"A figure that at the time was considered outrageous for a boy of his age, but which little by little seems to have become a derisory amount. A generational talent who in two years' time will be able to share a club with Moises Caicedo, another of the illustrious Ecuadorians of this golden generation who wants to make a name for himself.
Don't miss…
Man City raid Chelsea, Salah Saudi meeting, Ten Hag problem[LATEST]
Queen's brilliant reason for selecting Michael Owen as her favourite player[LATEST]
Man Utd star Jadon Sancho 'wanted by Gerrard' in late bid before Saudi deadline[LATEST]
We use your sign-up to provide content in ways you've consented to and to improve our understanding of you. This may include adverts from us and 3rd parties based on our understanding. You can unsubscribe at any time. More info
"Kendry Paez, write his name down. He has arrived to make history." Paez has enjoyed quite the year so far. He scored during his first game in senior football for Independiente del Valle when he was still only 15 and appeared in World Cups at Under-17 and Under-20 levels for Ecuador.
In June, he signed for Chelsea for £17.3million and has now made his debut for Ecuador's senior squad. Manchester United and Manchester City were among the many top European clubs chasing his signature but Paez chose the west Londoners instead.
A statement from the Blues read: "The Ecuadorian, who will join Chelsea after his 18th birthday, has already built a reputation in South America as one of the brightest and most creative young talents around. Thanks to his combination of skilful dribbling along with the vision and technique to open up defences with his passing.
"Paez caught the eye by finding the net on his senior debut for his club this year, becoming the youngest debutant and scorer in the Ecuadorian top flight. He has six senior appearances to his name this season in addition to making his continental debut in a 2-1 Copa Libertadores win over Corinthians at the start of May."
Source: Read Full Article