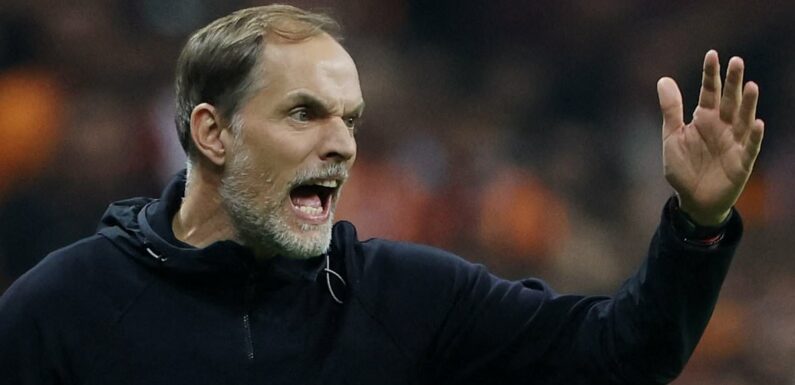 Bayern Munich boss Thomas Tuchel explains why he made his furious outburst against Didi Hamann and Lothar Matthaus after his side's 4-0 win over Dortmund – insisting he 'wouldn't go for a drink with the TV experts'
Thomas Tuchel explained his furious outburst against two Bayern legends

Didi Hamann and Lothar Mathaus were unimpressed with the club's results 
Big debates on Man United, Chelsea and Arsenal on It's All Kicking Off podcast
Thomas Tuchel has hit back at Bayern Munich legends Didi Hamann and Lothar Matthaus after their criticism of the club's season so far. 
Bayern beat Borussia Dortmund 4-0 in Saturday's Der Klassiker, with summer signing Harry Kane netting a hat-trick in the impressive victory. 
But the side sit second in the Bundesliga after two draws in their first 10 games, and their midweek elimination from the German Cup at the hands of third-tier Saarbrucken was viewed by many as a humiliation, including Matthaus, who said it was the club's worst result since the 1990s. 
Tuchel left a Sky Germany interview prematurely following the Borussia Dortmund match, as a result of the comments made by Matthaus and Hamann in the week. 
Later on, Tuchel told German BILD TV:' I've been asked about Didi Hamann and Lothar Matthäus every week. I don't want to stand in the middle and keep making comments. Today was the day to finally say it. 
Bayern Munich boss Thomas Tuchel hit back at criticism from two club legends after 4-0 win
Lothar Matthaus (L) and Didi Hamann had both seen a lack of improvement in Bayern recently
'I won't go into it any further. At some point it's enough. I have enough to do in my job.'
When Tuchel was asked if he would meet 62-year-old Matthaus for a Gin and Tonic to try and soothe the situation, the Bayern boss shot back: 'No, I don't drink alcohol during the season. And I normally don't meet TV experts in private.'
Matthaus, a World Cup winner with Germany in 1990, had an illustrious career which included two spells at Bayern Munich where he won six Bundesliga titles in the 80s and 90s, alongside a raft of other trophies.
Hamann, 50, came through the youth system at Bayern to make over 140 appearances for the club in all competitions, before moving to the Premier League in 1998. 
The pair had come together to claim that Bayern had not developed as a team since his arrival as head coach in March, something that Tuchel dismissed in the pre-match press conference ahead of the huge Dortmund clash.
Matthaus told Sport Bild: 'The defeat in Saarbrucken is Bayern's biggest cup embarrassment since our exit in Vestensbergsgreuth [in 1994].'
He added: 'Thomas Tuchel gambled away in Saarbrucken. If I were him, I would have started my best eleven and rotated them after 50 or 60 minutes. Not bringing in Harry Kane at all and then being knocked out, that's unfortunate. On the other hand, there were enough experienced players on the pitch who have to win this game.'
Harry Kane, who missed out in Saarbrucken, scored a hat-trick against Borussia Dortmund 
Tuchel hit back over criticism of the Saarbrucken defeat in a TV interview on Saturday night
These comments were referred to when Tuchel addressed Hamann and Matthaus directly on Sky Germany after the Dortmund game, where Kane was a starring figure.
Tuchel said: 'Even with the tensions between the team and the coach and the lack of improvement it was very surprising [to win 4-0]. If Lothar doesn't know what happened then today, then maybe Didi does. I'm super happy with my team.'
When Matthaus asked to reply, Tuchel ended the interview, adding: 'You can say whatever you want, but I don't want to be part of the discussion. Today we won 4-0, but now you have to do a 180-degree turn. Have fun!'
Bayern Munich host Galatasaray in the Champions League on Wednesday night before a home Bundesliga fixture against Heidenheim on Saturday afternoon.  
Source: Read Full Article