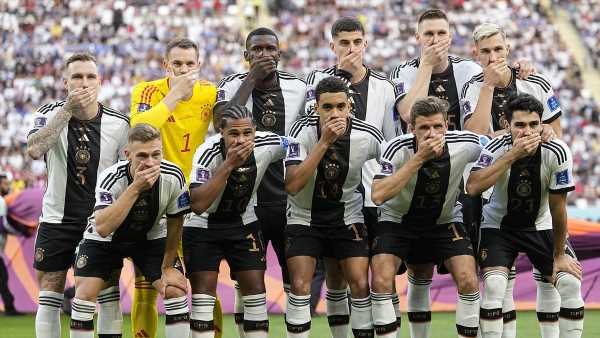 Antonio Rudiger and Joshua Kimmich argue in training, Hansi Flick warns his players have NO support at home and the OneLove armband furore looms large… All or Nothing trailer shows Germany's tumultuous World Cup
Amazon Prime's All or Nothing documentary is released on September 8
Germany were knocked out at the group stages at the World Cup
Listen to the latest episode of Mail Sport's podcast It's All Kicking Off 
Unrest between players, a perceived lack of support from fans and delicate political issues dominate the latest instalment of All or Nothing, which focuses on Germany's tumultuous World Cup campaign in Qatar.
Released on September 8, the latest addition to Amazon's ever-growing list of behind-the-scenes documentaries promises to be its most explosive football offering yet.
The trailer shows a heated argument in training between Antonio Rudiger and Joshua Kimmich, a despondent Hansi Flick warning his players there's little support for them back home and Leon Goretzka reflecting on the impact of playing in Qatar.
'This isn't the team I imagined,' Flick complains to his staff and players during a tactical meeting.
The mood is similarly tense on the training pitch, with Rudiger and Kimmich involved in a frank conversation that strays close to being an argument.
Germany were knocked out in the group stages of the 2022 World Cup
The four-time winners failed to make it to the knockout stages for the second consecutive World Cup after finishing third in Group E
Your browser does not support iframes.
'I give you instructions,' says the Real Madrid defender.
'But never to my face,' comes the reply from the Bayern Munich star. 
In another cut, Rudiger unceremoniously shoves Goretzka away in training, while Borussia Dortmund defender Niklas Sule warns Kimmich to: 'Stop yapping at me, I'm telling you.'
Knocked out in the group phase in 2018, Germany again failed to reach the knockout stages after finishing third in Group E behind Japan and Spain.
The four-time winners suffered a shock 2-1 defeat in their opening game against Japan and needed a late goal from Niclas Fullkrug to rescue a point against a Spain.
Fullkrug and Kai Havertz scored late again as Die Mannschaft came from behind to beat Costa Rica in their final game, but Spain's defeat to Japan meant they were knocked out on goal difference.
Their struggles on the pitch were only exacerbated by a diplomatic row between the German Football Association (DFB) and FIFA over the latter's decision to ban an LGBTQ armband. 
FIFA had threatened seven European teams with sanctions for wearing the 'OneLove' armband – which had been viewed as a symbolic protest against laws in Qatar, where homosexuality is illegal.
In the trailer, Germany manager Hansi Flick can be seen complaining to his players and the staff that the team at the World Cup isn't what he imagined
Joshua Kimmich (left) and Antonio Rudiger (right) were involved in a heated exchange
Flick warned his players they had very little support from fans back in Germany 
It was initially reported that the sanction would take the form of a yellow card to the player wearing the armband, but reports later suggested FIFA had threatened further punishments to the players and teams should they opt to wear the armband. 
In response to FIFA's ban, Germany players covered their mouths as they posed for a team picture ahead of the game against Japan.
The DFB subsequently released an statement emphatically supporting the team, saying: 'To ban the armband is like banning our right to speak.' 
The political backdrop and the controversy surrounding the issue feature prominently in the trailer.
'Forget what happened guys,' Flick says in one excerpt.
'We just talked about politics.'
Flick also references a perceived lack of support in Germany, where thousands of fans backed the Boycott Qatar campaign urging the teams against travelling to the World Cup.
Germany players covered their mouth before the game to Japan to protest against FIFA's decision to ban the 'OneLove' armbands
Leon Goretzka (middle) addressed the issue of politics while speaking to the press in the trailer
'I didn't sleep well last night because we don't have any support in Germany,' he says. 
In another scene, meanwhile, a gloomy-looking Goretzka discusses the issue with the journalists.
'What I expect from everyone is that we can completely forget these issues when we're on the pitch,' he says.
Perhaps the most succinct summation of Germany's tumultuous World Cup campaign comes from Oliver Bierhoff, who left his role as DFB sporting director in the wake of Germany's elimination.
'What's wrong with this team,' he asks in one scene, before adding. 'I'm seething.' 
IT'S ALL KICKING OFF! 
It's All Kicking Off is an exciting new podcast from Mail Sport that promises a different take on Premier League football.
It is available on MailOnline, Mail+, YouTube, Apple Music and Spotify.
Your browser does not support iframes.

Source: Read Full Article