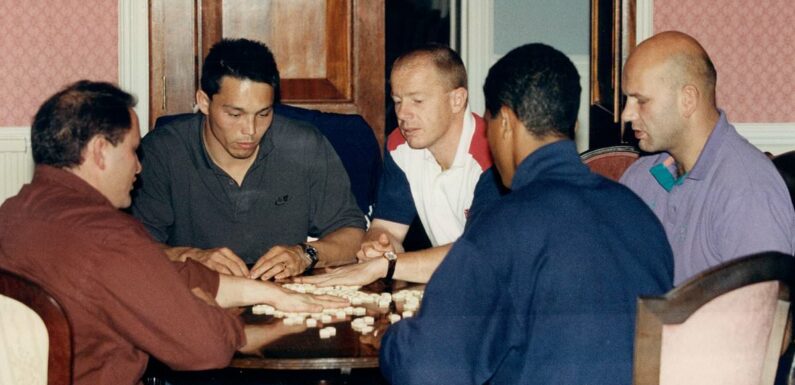 How World Cup rugby looked in the 1990s… as France gets set to host the showpiece event, Mail Sport looks back at what rugby's biggest tournament was like in the 1990s
SIR CLIVE WOODWARD: England have nothing to lose against Argentina 
Who will win the World Cup? Scientists use algorithm to predict the champion 
Click here to view our full set of Rugby Union images from our archive
Latest Rugby World Cup 2023 news, including fixtures, live scores and results 
Latest Rugby World Cup 2023 news, including fixtures, live scores and results
The Rugby World Cup kicks off in Paris on Friday night when hosts France take on favourites New Zealand. Then, all eyes will be on how England shape up against Argentina in their opener on Saturday after such a troubled build-up. 
It's bound to be an incredible spectacle but much has changed down the decades so, ahead of the tournament, we delved into the Mail Sport archives and dug out pictures from the 1991 World Cup in England – when the hosts lost the final to Australia. 
Four years later, the 1995 showpiece in South Africa coincided with the game turning professional and England's dream was ended by Jonah Lomu's All Blacks in the semi-finals. 
They would have to wait until 2003 to get their hands on the sport's biggest prize… 
Lying down on the job: England's Richard Hill (left) and Mick Skinner pictured in 1991
Brains trust: England's class of 1991 (from left – Brian Moore, Rory Underwood, Richard Hill, Jeremy Guscott, and Nigel Redman) unwind by playing Scrabble
Best seat in the hour: spectators clamber up trees to catch a glimpse of Ital's match against the USA in Otley, Leeds, in the 1991 pool stage. Italy won 30-9 but both teams crashed out with England and New Zealand going through
Height of sports science? Will Carling in a training suit in 1995, the year England were blown away by New Zealand in the semis
Low-key: England prepare for a match during 1991 tournament in inconspicuous surroundings
The winner takes it all: Twickenham prepares to welcome England and Australia for the 1991 final as 56,208 fans turn out to see the Aussies win 12-6… the stadium now holds 82,000
Style icons: Mike Catt and Victor Ubogu show off their new threads in 1995
Four years earlier, Rory Underwood enjoys a cuppa before the devastating final defeat by Australia
Underwood, Nigel Heslop, Carling, and Rob Andrews get their knees up in training
To buy any of these brilliant pictures from Mail Sport's archive, visit The Northcliffe Collection. 
Source: Read Full Article