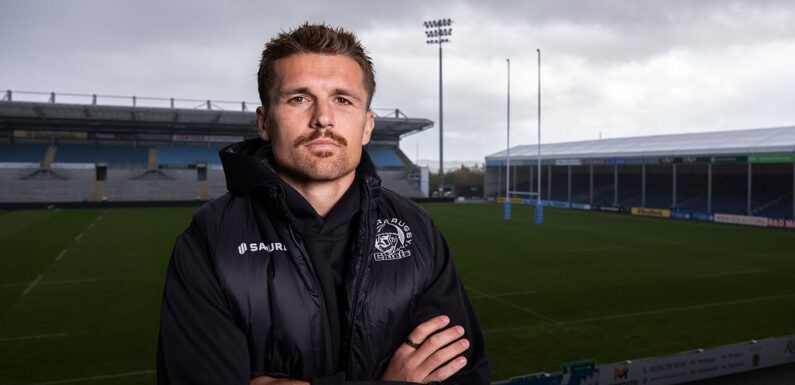 EXCLUSIVE: England centre Henry Slade admits 'there was anger' after he was left out of Steve Borthwick's Rugby World Cup squad… but insists he is still motivated by the chance to play for his country again
Henry Slade admits he was 'massively gutted' after not being picked by England
The 30-year-old was left out of Steve Borthwick's Rugby World Cup squad
 Slade has 56 caps but didn't feature as England finished third at the RWC
On a bleak autumnal Thursday afternoon in Exeter, Henry Slade takes a seat in the Sandy Park stands. As the England centre discusses the lowest point of his career to date, the sky turns particularly dark all of a sudden. Soon, the rain lashes down too.
The weather accurately reflects Slade's summer to forget.
'We had a meeting,' Slade says, recalling the grim moment he was told he wouldn't be a part of England's World Cup squad.
'It was the morning after the first warm-up game and Steve Borthwick told me he needed more cover on the wing. I can play a lot of positions, but not wing!
'There was nothing I could do about it. I did everything I could in the summer but it wasn't meant to be. There were a lot of feelings, disappointment and probably some anger. You work your entire career for opportunities like that and I feel like I'm in my prime.
Henry Slade has opened up on his disappointment after being left out of England's Rugby World Cup team
Slade admitted he was left feeling 'massively gutted' at not being picked for England's World Cup team
The 30-year-old insisted that he is still motivated by the chance to represent England again
'I was massively gutted to have that taken away, obviously.
'But we're in a team sport. It's opinion driven. I guess I've been on the right side of the opinion for most of my career. Sometimes it goes the other way and you have to take the hand you're dealt.'
Slade, 30, was the headline omission from national head coach Borthwick's 33-man party for France when it was announced in August. Without him, England went on to finish third against the odds.
'It was very tough to watch the games,' Slade says. 'I'm great mates with a lot of the boys and I obviously wanted them to do well but I did struggle. People did come up to me and ask why I wasn't in the squad.
'It was nice to hear people say I should have gone but ultimately it's not down to their opinion. I had to come back to Exeter and not dwell on it.'
Slade has 56 England caps. He played in the 2019 World Cup final defeat by South Africa and was also part of the 2015 tournament squad as a youngster.
'A couple of weeks after I got released by England our second daughter Orli was born,' he adds.
'I was always going to be there for the birth but the silver lining of missing the World Cup was that I was there for the first seven or eight weeks of her life.
Slade previously played in the 2019 World Cup final defeat by South Africa and was also part of the 2015 tournament squad as a youngster
England head coach Steve Borthwick made the decision to cut Slade from his tournament squad
'They are times and memories you can't get back. My wife was very happy I was around.
'It's been a crazy couple of months. It's a big change going from one to two children! It's a lot harder!
'As an athlete you're always looking for something extra to motivate you. Playing for England again is definitely one of them. If that chance comes again then it would be amazing.' 
Slade has responded to his brutal World Cup setback in fine fashion. There is surely more to come from him at Test level.
Leading a youthful Exeter side now shorn of a host of England internationals and some of his best friends who have moved abroad, Slade has guided the Chiefs to three wins from their first four Premiership games.
Rob Baxter's side started round five top of the table and will look to continue their fine form when they travel to Northampton today.
Slade made his 150th Premiership appearance in last week's 29-20 victory over Bristol and is favourite to win the player- of-the-month award for September.
'It's come in the blink of an eye,' Slade says, clicking his fingers and reflecting on his sudden elevation to senior player. 'We've got a very different team this year.
A couple of weeks after being released by England, Slade welcomed his second daughter Orli
Slade has since guided the Chiefs to three wins from their first four Premiership games
'Maybe we have surprised ourselves a little bit. A lot of players who were here for a long time and did great things for this club have moved on.
'As one of the more experienced lads, I'm trying to help a little bit.
'Coming back here halfway through pre-season and seeing how the boys were and how intense and physical training was, it was a bit of a shock.
'It was ideal for me though because the World Cup disappointment was obvious.
'It took my mind off everything and I had to be fully invested in what we were doing here. If I'd had a few weeks off, I'd have gone absolutely insane.'
Slade has seen his former Exeter and England team-mates Jack Nowell and Sam Simmonds bring an end to their international careers by moving to France.
England finished third at the Rugby World Cup after getting beaten by South Africa in the semi-final
Borthwick has also lost a host of other high-profile stars to the lucrative Top 14.
'I'm in the final year of my Exeter contract,' Slade says.
'I've got no intention of doing anything else. We'll sit down and speak about that stuff. If I put myself in the conversation, hopefully I'll get another shot at England.
'I think everyone always has a thought about that (moving abroad). But I've spent my whole career at Exeter. I'm very happy here with my family. I guess if they pay me enough, I'll stay!'
Source: Read Full Article