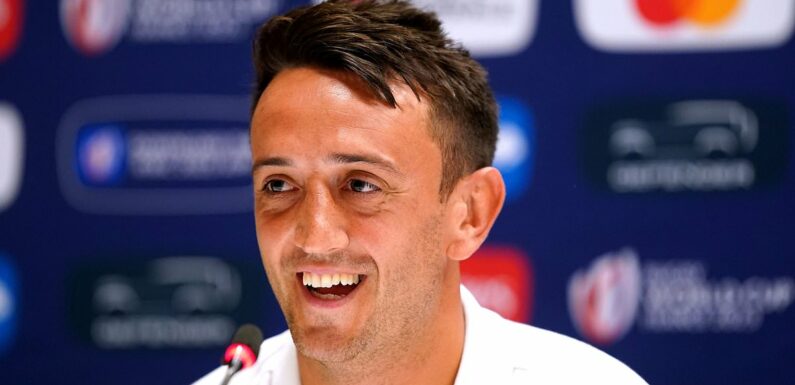 Alex Mitchell admits his World Cup journey has been 'weird' after being included in England's squad despite initial training omission… as he gets set to achieve his childhood dream
Scrum-half Alex Mitchell will start in England's World Cup opener vs Argentina 
He did not make the original training squad but an injury opened the door for him

Mitchell has described his excitement ahead of achieving a childhood dream 
Alex Mitchell, entrusted with injecting some life into England's moribund team, admits his World Cup journey has been a 'weird' one.
The scrum-half starts England's opener against Argentina on Saturday night despite not making the original 41-man training squad.
That omission allowed the Northampton man to take a holiday in Hvar in Croatia.
But Jack van Poortvliet's ankle injury against Wales at Twickenham last month opened the door.
'It's been a bit of a rollercoaster – out of the squad, then back in and now getting a shot against Argentina,' Mitchell said. 'I stayed fit and then got called to come in. I trained hard and tried to put my hand up again.
Alex Mitchell has reflected on his rollercoaster journey to joining England at the World Cup
Scrum-half Mitchell will start England's opener against Argentina and is relishing the moment
'I'm massively excited to be getting an opportunity to play. It's all been a bit weird but I'm excited.
'As a kid it's a thing you dream of, playing at the World Cup. To start the first World Cup game is a massive honour – my family are massively proud of me. I'm really looking forward to it and hopefully we can get a result.'
Van Poortvliet's misfortune offered his route back into the squad and when asked to start against Fiji, Mitchell seized the opportunity by emerging as one of the few bright sparks.
Mitchell, 26, was a regular fixture in England training squads under Eddie Jones before being used as a dynamic replacement by Borthwick during the recent Six Nations, so it came as a shock when he was originally deemed to be surplus to requirements.
But his elevation to a central role in the main event of Pool D has come at a difficult time for England, who are reeling from five defeats in six Tests.
'I've got to try and control the game, get the team to tick and, when I can, imprint some tempo into the side but stick to the gameplan,' he said.
'We know we're a good side when we play well and stick to our style of play.'
Source: Read Full Article