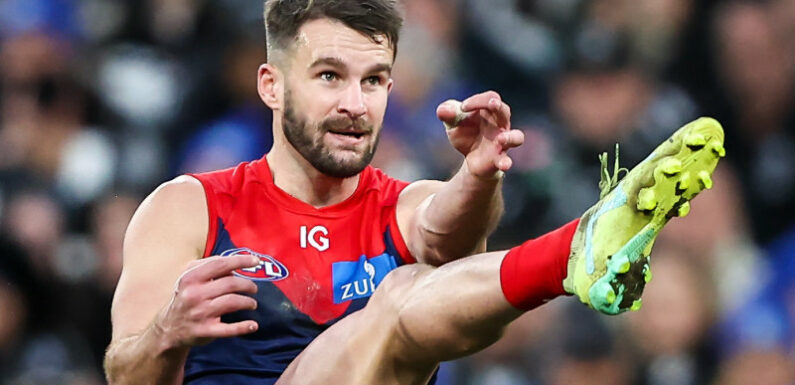 Save articles for later
Add articles to your saved list and come back to them any time.
It did not take long for the narrative surrounding Joel Smith's positive test for the presence of cocaine to turn to the state, not of the player, but of the club he represents.
Smith's in-competition positive test completes what has been a highly disappointing period for the Demons, who, at some point – preferably in the coming days – will have to speak to their supporters and the media about whether there is a cultural problem in their playing group.
Joel Smith in happier times celebrates a goal with teammate Kysaiah Pickett.Credit: Getty
The most crucial step for the Demons will not be what they say to the public, however. It will be the questions they ask themselves.
The best clubs would look at the situation with Joel Smith and the sensitive matter of Clayton Oliver's issues – and even of the embarrassing dust-up between teammates at a Prahran restaurant last year – and ask themselves if they had a behavioural problem.
The best clubs would have conversations within their playing group, and especially the leaders, and genuinely probe whether standards – which were externally enforced by the monastic hub environment in the 2021 premiership in Perth – have fallen away at a team that has not handled success as well as the great clubs, such as Geelong.
The best clubs would take an open and honest approach, rather than a defensive mindset, recognising that there has been significant brand damage inflicted by the sequence of events, starting at Entrecote restaurant and then concluding with the club's quasi-intervention on Oliver and then Smith's alleged blunder.
Melbourne's response to the potential trade of Oliver, and the subsequent episode that led him to hospital, has largely been silence aside from a couple of media statements.
Steven May's loose comments at the Melbourne best and fairest awards night – suggesting that the Demons were clearly superior to Collingwood – weren't heinous, and this column is loath to criticise a candid footballer for providing non-robotic commentary on another team and his own.
But May's comments on the Pies arguably betrayed an excess of self-regard within the Melbourne playing group.
The irony of May's comments is that the Demons have lost respect within the football community lately. To regain that respect, they have to address even the possibility that they have a cultural failing; again, this is what a great organisation would do.
One could argue the Demons did not move on quickly enough from the awful concussion of Angus Brayshaw in the contentious and eventual non-suspension of Collingwood's Brayden Maynard, when they were preparing for the semi-final against the Blues. They were right to support Brayshaw, a fantastic young man, as Simon Goodwin did, but the talk about the incident should not have dragged on in public view.
If Smith did indeed partake in cocaine in the days before the round 23 game against Hawthorn, then he has shown a staggering level of unprofessionalism and a disregard for teammates, headed by Max Gawn; note, too, that he's 27, not 19.
At the time of writing it was unclear whether he would request that the B-sample be analysed (as many athletes do). Presumably, if the positive test holds up, he will make the logical defence that this was for recreational use, and in no way performance-enhancing. This minimises any suspension to one that might see him back relatively soon in 2024.
Melbourne might argue that there are plenty of examples of players who've had drug/behavioural problems at rival clubs; that Collingwood housed Jack Ginnivan's suspension within a premiership season, and have the redemptive story of Jordan De Goey's reformation, while Richmond – a club that achieved greatness with a premiership treble with no better talent than Melbourne's – has since dealt with Marlion Pickett's arrest and even with the COVID breaches of hub escapees Callum Coleman-Jones and Sydney Stack in a flag year (2020).
It's hard to find a club where no player has ever used illicit drugs, in what is a reflection of that demographic of young men within the broader society. All clubs have to be guided by their leaders within the playing group on how to deal with issues of standards and behaviour, bearing in mind that mental health is another complication.
It's noteworthy that Ginnivan is no longer a Collingwood player, that Coleman-Jones and Stack didn't last long at Richmond. Collingwood backed De Goey, the more crucial player, while the Tigers have been fierce in defending Pickett and, before that, Shai Bolton from a nightclub incident that created unwelcome headlines.
Melbourne will be as well-equipped to assess Smith, to lend him assistance and to try to get him in the best shape. As ever, they must tread the delicate line between creating the right environment for all players and staff – and yes, brand protection for sponsors etc – and protecting the health and welfare of the individual.
It is a balancing act that also applies to the handling of Oliver, who also has a seven-year deal worth more than $7 million.
Whatever the fate of Smith, and whatever an examination of the evidence in his case brings, the Demons should not avoid an examination of themselves.
Keep up to date with the best AFL coverage in the country. Sign up for the Real Footy newsletter.
Most Viewed in Sport
From our partners
Source: Read Full Article