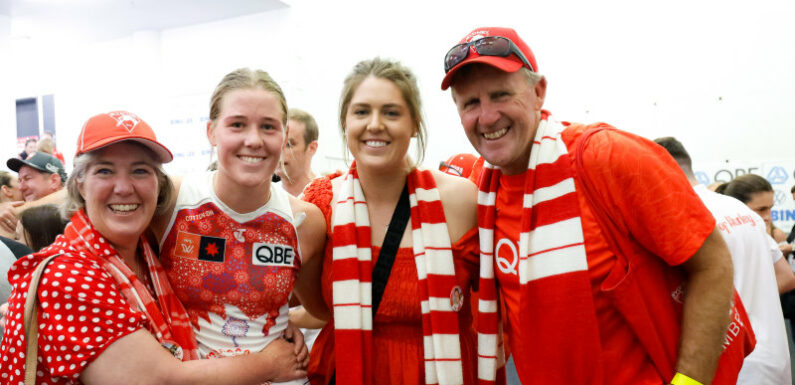 Save articles for later
Add articles to your saved list and come back to them any time.
Sydney's Bella Smith has reflected on the full-circle moment as she prepares for a return to her former home ground for Saturday's AFLW semi-final in Adelaide.
The Swans – the surprise packets of this AFLW season – on Thursday night made one change to last week's that beat Gold Coast Suns, bringing Montana Beruldsen in to replace the injured Rebecca Privitelli, while Adelaide introduced Jessica Waterhouse at the expense of Najwa Allen.
Bella Smith is looking forward to again having her family on hand – this time closer to home for them – when she plays a semi-final at Norwood Oval in the AFLW on Saturday.Credit: Getty
In selection news from the other semi-final, Geelong unsurprisingly was forced to leave out Chloe Scheer, who injured her collarbone in last week's win over Essendon, and Melbourne omitted Georgia Campbell (full teams listed below).
For Smith, who played her junior footy for Port Pirie in South Australia and three seasons at Norwood Redlegs in the SANFL before joining Collingwood, then Sydney at the top level, the trip to play minor premier Adelaide is a homecoming.
While she said it would be a thrill to have her family at Norwood Oval, she said her primary focus was on securing a victory.
"I guess a little bit of a 360 [degree cycle] for me playing my several years there [Norwood Oval]; it's played a big part in my footy career," Smith said.
Geelong will be without Chloe Scheer for their final against Melbourne after she injured her collarbone last week.Credit: Getty Images
"To come back there in front of all my family is exciting, but I guess that's not why we're going back there, we're going there to win a game.
"So as good as it is, there's probably a bigger focus."
While the sentimental journey adds a personal touch, the spotlight shifts to the competitive arena where Smith is focused on preparations for the do-or-die clash against the Crows.
Smith says the team carry the conviction that their recent success is no coincidence, including last week's win on the Gold Coast.
"There is this unwavering belief in the group that we could be anything at the moment, [we've won] four on the trot … we were in the top eight for a reason, and now we're in the top six, so why not," Smith said.
It has been an incredible 12-month turnaround for the Swans, going from wooden spooners to semi-finalists, with Smith attributing that to the strong bond in the squad.
"We can't talk high enough of it, it's such a big deal with the team connection and it is such a genuine connection between the group … I just feel this sense of value," Smith said.
"I'm playing my role for the team which just wants me to play better."
AAP
Teams: Adelaide v Sydney Swans
ADELAIDE
Backs: C.Randall, Z.Prowse
Half-backs: C.Biddell, S.Allan, S.Goodwin
Centre: S.Thompson, A.Hatchard, N.Kelly
Half-forward: E.Jones, D.Ponter, Y.Bonner
Forwards: C.Gould, R.Martin
Followers: J.Allan, E.Marinoff, T.Charlton
Interchange: K.Mueller, M.McKinnon, M.Newman, J.Waterhouse, H.Munyard
Emergencies: N.Allen, D.Varnhagen, B.Tonon
In: J.Waterhouse
Out: N.Allen (omitted).
SYDNEY SWANS
Backs: B.Tarrant, J.O'Sullivan
Half-backs: E.Vale, A.Mitchell, E.Heads
Centre: L.McEvoy, T.Kennedy, L.Steane
Half-forwards: C.Hamilton, P.McCarthy, B.Lochland
Forwards: M.Ham, S.Hurley
Followers: B.Smith, L.Gardiner, C.Molloy
Interchange: A.Whelan, M.Beruldsen, A.Hamilton, A.Woodward, A.Newman
Emergencies: S.Ford, J.Anthony, P.Sheppard
In: M.Beruldsen
Out: R.Privitelli (injured)
Teams: Melbourne v Geelong
MELBOURNE
Backs: L.Birch, T.Gillard
Half-backs: S.Goldrick, M.Gay, S.Heath
Centre: B.Mackin, T.Hanks, A.Mackin
Half-forwards: M.Fitzsimon, P.Paxman, E.Zanker
Forwards: K.Hore, T.Harris
Followers: L.Pearce, O.Purcell, L.Mithen
Interchange from: M.Chaplin, E.West, E.McNamara, A.Bannan, J.Ivey, R.Watt, C.Wilson, S.Johnson
In: E.West, R.Watt, C.Wilson, S.Johnson
Out: G.Campbell (omitted)
GEELONG
Backs: C.Emonson, C.Gunjaca
Half-backs: R.Webster, M.McDonald, G.Rankin
Centre: M.Bowen, G.Prespakis, N.Morrison
Half-forwards: R.Garing, J.Parry, K.Surman
Forwards: S.Scott, A.Moloney
Followers: E.Hoare, A.McDonald, J.Crockett-Grills
Interchange from: D.Moloney, Z.Friswell, A.Kennedy, M.Bragg, R.Kearns, G.Featherston, B.Plummer, K.Darby
In: A.Kennedy, G.Featherston, B.Plummer, K.Darby
Out: C.Scheer (injured).
Keep up to date with the best AFL coverage in the country. Sign up for the Real Footy newsletter.
Most Viewed in Sport
From our partners
Source: Read Full Article