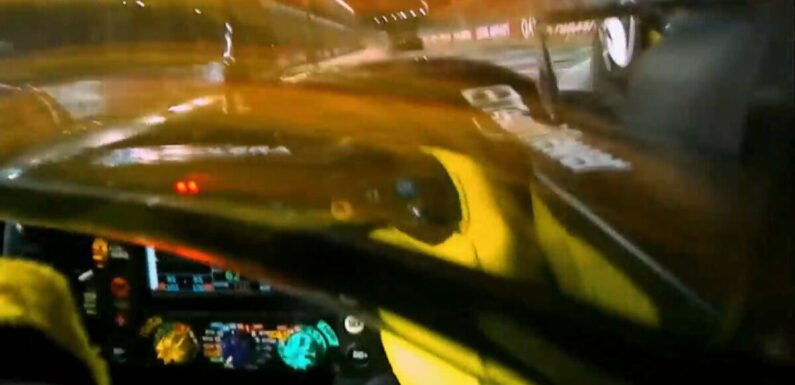 Lewis Hamilton commits to Mercedes until 2025
F1 fans were left speechless after witnessing a "wild" clip that showed Mercedes star Lewis Hamilton appearing to scratch his nose while chasing down Lando Norris at the Singapore Grand Prix. The seven-time world champion secured his fifth podium finish of the season as he ended the race in third place.
Hamilton started the Singapore Grand Prix from fifth and was chasing down McLaren maestro Norris on lap 15 when his attention was temporarily diverted.
Footage from the veteran's Driver's Eye camera shows him taking his left hand off his steering wheel, opening his visor and itching his face before putting his hand back on the wheel and taking a sharp left. Hamilton then takes his left hand off the steering wheel for a second time to make sure his visor is closed before continuing his pursuit of Norris.
"Doesn't matter whatever you're doing, even driving an F1 car at 220kmh, if you got an itch you just got to scratch it," wrote @FiftyBucksVT on X (formerly Twitter). And @lulu_blaugrana replied: "It is one of the wildest things I have seen in live television."
Click here to join our WhatsApp community to be the first to receive breaking and exclusive F1 news.
Read more… Lando Norris' boss considered huge gamble that Lewis Hamilton would have loved
Other fans on X were also stunned at what they had seen: "Crazy. Also lowered the visor a little more to not allow debris inside," penned @jbnjpn. "The fact that he needed to downshift with the same hand," wrote @Dr_Ehmm. "And he didn't put it in the wall," added @ya4nis.
Hamilton is enjoying an improved year on the track following a dismal season last time around and added another 16 points to his overall tally after also recording the fastest lap in Singapore. The 38-year-old leapfrogged Aston Martin ace Fernando Alonso in the season standings and is now third in the pecking order behind Red Bull duo Max Verstappen and Sergio Perez.
The Singapore Grand Prix was eventually won by Ferrari's Carlos Sainz, with Norris finishing in second. Hamilton's Mercedes team-mate George Russell had also been in the mix to land a podium finish but crashed out of the race after clipping a wall on the final lap.
We use your sign-up to provide content in ways you've consented to and to improve our understanding of you. This may include adverts from us and 3rd parties based on our understanding. You can unsubscribe at any time. More info
Don't miss…
F1 LIVE: Vettel return gains momentum as Lewis Hamilton offers Red Bull theory[F1 LIVE]
Lewis Hamilton shares personal concern after snatching Singapore podium[CONCERN]
Sainz and Norris 'buying each other drinks' after teaming up to stop Hamilton[QUOTES]
Meanwhile, runaway Drivers' Championship leader Max Verstappen could only muster a fifth-place finish after his Red Bull car struggled with its rear grip on the bumpy street surface. But Hamilton is not expecting the Austrian team to underwhelm in future races.
"I think it's just one of those things," he explained. "They are so clear ahead that maybe they're developing their car less and we are still pushing to develop our current one but McLaren have picked up a huge amount of pace, it's great to see that Ferrari have really stepped it up and I think that's a positive."
Source: Read Full Article