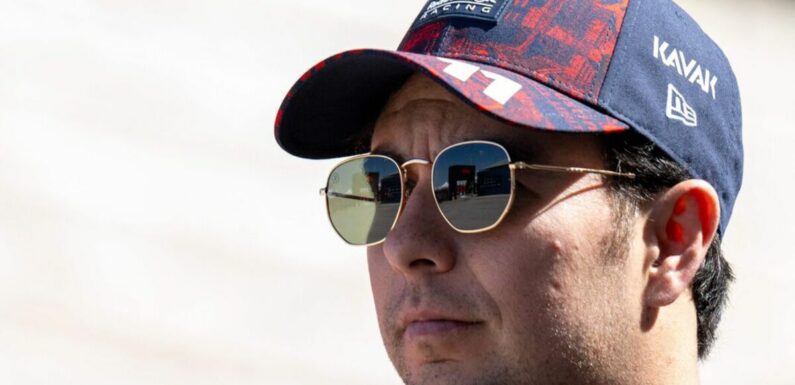 Former F1 driver turned co-commentator Martin Brundle has questioned Sergio Perez's desire in his current working environment as the Red Bull driver continues to struggle in the shadow of his world champion team-mate.
The Mexican is coming under increasing pressure with every coming race weekend after dismal performances at Suzuka and Qatar thrust him further into the clutches of Lewis Hamilton in the Drivers' Championship standings.
With second place and therefore Red Bull's first-ever one-two finish now in jeopardy there is more spotlight on Perez's performances than ever with rumours surfacing that he could be replaced by Daniel Ricciardo for 2024 should he fail to beat Hamilton in that Drivers' Championship battle.
Click here to join our WhatsApp community to be the first to receive breaking and exclusive F1 news.
Don't miss… Charles Leclerc red-faced as he 'forgets' Ferrari milestone at United States GP[LATEST]
Discussing Checo's predicament on Sky Sports F1 ahead of the United States Grand Prix, Brundle said: "Sergio Perez and Red Bull want exactly the same thing. They want him to refind his form and, if he can't beat Max, at least deliver some second places and grab second in the world championship.
"Red Bull can't take a passenger into 2024 if he is not on form. And I can't imagine that Sergio would want to drive it either, to be honest (if that was the case). So these next few races are critical for his head and for Red Bull to be satisfied that he's just not lost his way and he can do this."
Despite this speculation from Brundle and other figures in the F1 paddock, Perez remains insistent that he is committed to the sport long-term and that, despite being 33 years of age, he is hungry to claw back performance relative to Max Verstappen.
More F1…
F1 news: Max Verstappen rejected as Lewis Hamilton made an example of[F1 NEWS]
Christian Horner and Helmut Marko clash again in fresh Daniel Ricciardo debate[RED BULL]
Max Verstappen slams 'bulls***' rumours about Helmut Marko and Christian Horner[VERSTAPPEN]
Advert-free experience without interruptions.
Rocket-fast speedy loading pages.
Exclusive & Unlimited access to all our content.
The Mexican driver discussed the impact the pressure and speculation is having on him ahead of Friday's running at the Circuit of the Americas. He said: "I have a contract for next year. I have no reason not to fulfil that contract.
"I'm going to give my very best to it. I've made a commitment. But more than that, it will not be my final contract in F1. I'm with Red Bull and I want to stay with Red Bull, and obviously, it has to work out for both sides.
"I'm just enjoying it at the moment. I love the challenge of getting back out of it [his struggles] and at 33, I think I have some good years ahead of me. As an athlete, you want to maximize your career. That to me, is important, and that's my focus."
Source: Read Full Article