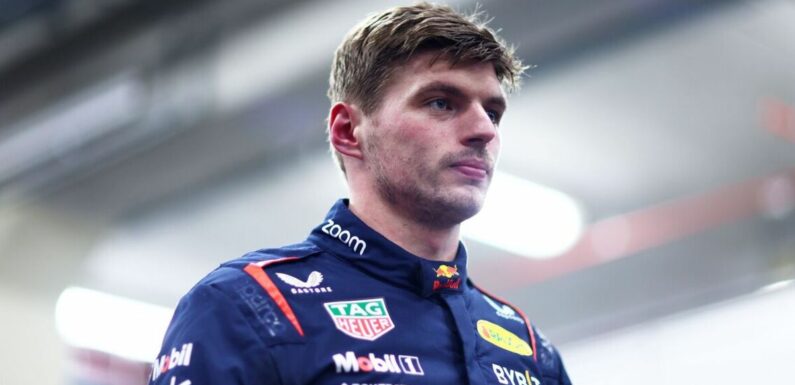 Max Verstappen has revealed the cause behind a radio outburst during qualifying ahead of the Brazilian Grand Prix. The reigning world champion clinched the pole position on Friday, despite the looming threat of an extreme downpour at Interlagos. 
With the incoming storm creating a one-lap shootout for pole position, Red Bull's star driver raced out of the pit lane to get his lap underway. Verstappen went on to set the fastest time of the top ten, leading Charles Leclerc and under-fire Aston Martin driver Lance Stroll when the chequered flag waved.
There was less joy on the other side of the Red Bull garage as Sergio Perez found his lap jeopardized by a yellow flag brought out by Oscar Piastri's excursion onto the grass. The Mexican is coming under increasing pressure but showed impressive pace throughout the first two parts of qualifying.
Discussing his session after clinching pole position for the Brazilian GP, Verstappen admitted he was not entirely happy with the balance of his car, claiming it was 'jumping like a kangaroo'. He said: "We lined up for Q3 and you could see the sky was just black. I was like: 'Well, if that rain hits, it is going to be a lot'. We went for the lap. The first sector felt all right and the rest felt shocking. 
Click here to join our WhatsApp community to be the first to receive breaking and exclusive F1 news.
Don't miss… Lando Norris proven right with sprint pole as Max Verstappen issued promise[LATEST]
"The rain was coming in. It was not hitting the track yet but the wind increased a lot and changed direction to a tailwind in the middle sector. I was shouting on the radio saying: 'What the hell happened?' We were nowhere, but the team said everyone was struggling. I have never seen such an influence on car balance." 
However, despite finishing comfortably clear of second-placed Leclerc, Verstappen admitted that without the weather throwing a curveball into proceedings, he was unsure that pole position would have gone his way.
More F1…
US Grand Prix result could be changed as F1 team lodge official objection[US GP]
Russell learns Brazilian GP fate after FIA probe into qualifying mishap[RUSSELL]
Brazilian GP scare as grandstand roof collapses after qualifying red flag[BRAZILIAN GP]
Advert-free experience without interruptions.
Rocket-fast speedy loading pages.
Exclusive & Unlimited access to all our content.
Explaining his concerns with Red Bull's true qualifying pace, Verstappen said: "The gaps were just very, very close. I think we were quite competitive so I think no one really knew who was going to be first in Q3 if it would have been a normal session without the weather incoming. 
"That makes it quite interesting for Sunday as well to see how everything will evolve with the long-run pace. I didn't even have a lap on a soft tyre. So naturally in Q1 there's always a bit more margin in your lap time, and it was extremely tight so if you didn't do a good lap, you were out."
Source: Read Full Article