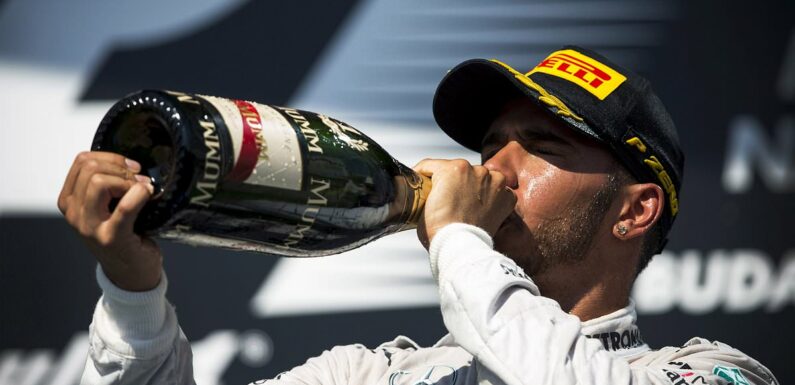 Lewis Hamilton reveals he has given up alcohol as the seven-time world champion seeks an 'extra one per cent' to boost his Formula One fortunes
Lewis Hamilton claimed he could suffer for 'several days' after drinking alcohol 
The Mercedes star revealed he has not drunk alcohol for the last four months 
Hamilton made the comments as he launched a non-alcoholic drinks brand 
Lewis Hamilton has revealed he has given up alcohol as he seeks an 'extra one per cent' to boost his Formula One fortunes.
The seven-time world champion revealed in an interview with Vogue that he has not drunk alcohol in the last four months.
Hamilton made the claim as he launched a non-alcoholic tequila brand Almave, collaborating with Casa Lumbre master distiller Ivan Saldana.
The 38-year-old admitted that drinking alcohol had affected him, as he continues to perform at the top of his sport. 
'​​I'll suffer for several days—sometimes it'll be like three or four days,' Hamilton said.
Lewis Hamilton revealed he has given up drinking alcohol as he seeks an 'extra one per cent' 
Hamilton made the revelation as the star launched his own non-alcoholic drinks brand
'I've always been looking for how do you get that extra one per cent?
'As an athlete, that's what you are always doing.
'I don't know if I'm going to drink again.
'Since I've stopped drinking, I've just been feeling so much better, so much more clarity. I sleep better, I wake up in the morning and I can still get up at 5 a.m.'
When launching his non-alcoholic tequila brand, Hamilton insisted he had been looking for an option to help ensure he kept a 'clear mind'.
Hamilton has claimed his brand will 'honour the soul of tequila' by keeping to its traditions.   
'I've always loved a good tequila, but on days or nights when I needed a clear mind – either the night before a race or while hanging with friends- I could not find an authentic non-alcoholic option that delivered on the premium quality and experience of my favorite full-proof tequilas,' Hamilton said on Almave's website.
'And so began a relentless pursuit to create a non-alcoholic spirit that does not compromise on authenticity or quality.'
The seven-time world champion said he feels better for having given up drinking alcohol
Almave is Hamilton's latest pursuit away from the track, as the F1 legend seeks to secure a record eighth world title.
Hamilton has endured another frustrating season with Mercedes, with the British star lying third in the World Championship standings.
Red Bull's Max Verstappen has cruised to the world title with the Dutchman leading on 524 points following 17 race wins.
He is followed by his Red Bull team-mate Sergio Perez on 258, with Hamilton third on 226.
The penultimate race of the season will take place in Las Vegas on November 18, with the Abu Dhabi hosting the finale on November 26.
Source: Read Full Article