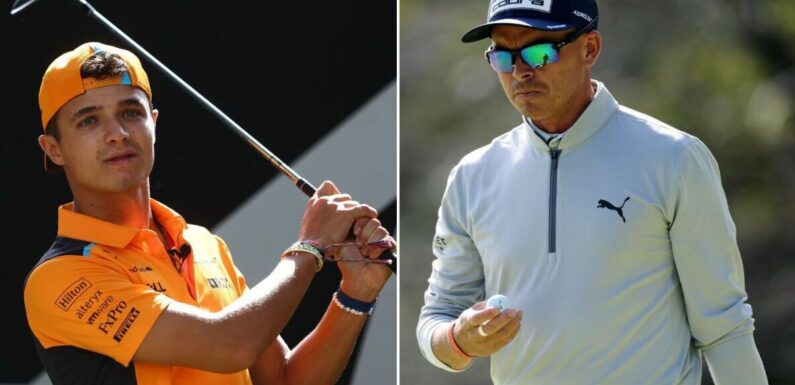 Netflix will make its debut as a live sports broadcaster next week with a crossover event featuring stars of golf and F1 ahead of the inaugural Las Vegas Grand Prix. Carlos Sainz, Lando Norris, Alex Albon and Pierre Gasly are used to doing battle on the track, but they will join forces with four of the best players on the PGA Tour for "The Netflix Cup".
Netflix has enjoyed huge success with its documentary series "Drive To Survive" and "Full Swing". The former has transformed the sport of F1 in the United States, attracting a new legion of fans since its first series launched in 2019. "Full Swing", meanwhile, debuted in February this year, taking fans behind the scenes on the PGA Tour during a turbulent year for the game of golf.
So the bosses of the streaming giant have decided to merge two of its best products for its entry into live sports on Nov. 14, building hype ahead of the race on the Las Vegas strip on Nov. 19. The event will be held at the Wynn Golf Club – the venue for charity golf series "The Match" which saw Kansas City Chiefs stars Patrick Mahomes and Travis Kelce take on Golden State Warriors icons Steph Curry and Klay Thompson earlier this year – with the players split into four teams.
McLaren driver and fan favourite Norris will join forces with Rickie Fowler, while Ferrari's Sainz has been paired with two-time major champion Justin Thomas. Frenchman Gasly will play alongside another double major winner in Collin Morikawa, while Williams driver Albon has been partnered with rising star Max Homa.
The eight-hole matchplay event tees off at 6 p.m. ET as the drivers vie to prove who has the best golf game, although Albon has something of an advantage. The Thai speedster is dating professional golfer Lily Muni, although he told the "Beyond The Grid" podcast: "I think I have a full-time coach, which is my girlfriend, but I don't listen to her because she's my girlfriend."
Gasly, meanwhile, has been getting expert tips from World No. 2 Rory McIlroy. The Northern Irishman was revealed as one of several new investors in the Alpine F1 team last month, and Gasly took the chance to get a couple of rounds in with the four-time major winner.
Norris, though, is confident in his partner. He said: "[Rickie is] A good guy. I watched all of the guys and Rickie is kind of a bit more back on form lately, compared to where he was at the beginning of the year and the last couple of years. I'm excited. It's going to be the first live event for Netflix, which is a cool thing to be part of. Nice course and everything. And yeah, I don't know, like how the whole event is going to work but I'm sure it's going to be good, fun."
Support fearless journalism
Read The Daily Express online, advert free
Get super-fast page loading
While it has appeared it would only be a matter of time before Netflix makes an entry into live sports, its inaugural event is something of a novelty. Emily Prazer, chief commercial officer for the Las Vegas Grand Prix, explained the purpose of The Netflix Cup.
"The continued success of Drive to Survive has played a significant role in the growth of Formula 1 in the US, which has ultimately led to the addition of a third American race," she said. It's only fitting that we kick off our inaugural race weekend with a fun event that can be streamed by F1 and PGA Tour fans around the globe."
Source: Read Full Article