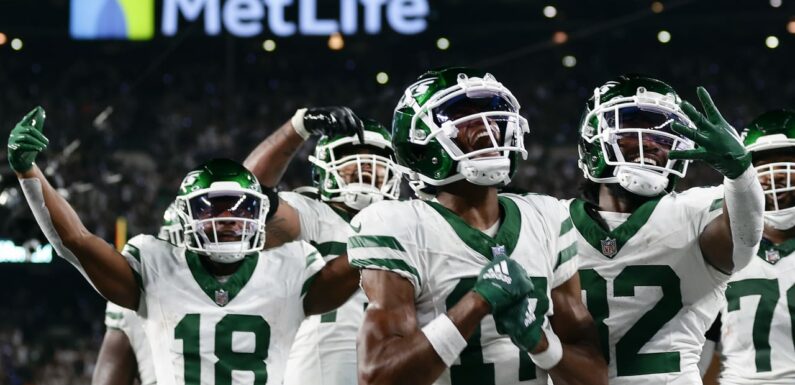 Throughout the 2023 season, NFL Network analysts will provide one bold prediction heading into each week's slate of games (see the full Week 2 schedule).

Last week, the Jets won on the strength of a defense causing havoc and forcing Josh Allen into turnovers. Meanwhile, Zach Wilson and the Jets' offense were just good enough to land a shocking upset. This week, the Jets will win on the strength of a defense causing havoc and forcing Dak Prescott into turnovers. Meanwhile, Breece Hall and Dalvin Cook will carry Gang Green to another shocking upset.
Related Links
Week 2 NFL picks: Who wins juicy Ravens-Bengals bout? What's next for Aaron Rodgers-less Jets?
NFL QB Index, Week 2: Tua Tagovailoa soars into top five; Jordan Love surges in rankings
Top 10 rookie debuts of the 2023 NFL season: Fifth-rounder at No. 1! Rams, Texans each boast two picks
2023 NFL Offensive Player Rankings, Week 2: Best QB option for Jets? Evaluating 6 struggling offenses
2023 fantasy football flex rankings: Top 150 RB/WR/TE options in Week 2
Fantasy football 2023 Week 2 sleepers: Do you believe in Jordan Love?

Matthew Stafford connected with his young wide receiver duo of Tutu Atwell and Puka Nacua for 119 yards apiece in last week's win. It was a career-best outing for both receivers, with Atwell even hauling in a game-long 44-yard reception in the contest. This time out the Rams' 2021 second-round pick has a pair of touchdown receptions that each go for 50-plus yards.

The Lions return home against a heavy zone-coverage defense in Seattle. Amon-Ra St. Brown is at his best against zone, while Jared Goff averaged 10 more points per game at home compared to on the road in 2022. St. Brown will matchup against either Coby Bryant, who received a 37.3 PFF grade in Week 1 after surrendering the most targets and receptions in the NFL, or rookie Devon Witherspoon, who's coming off a hamstring injury. St. Brown is positioned to best his career-high marks in targets (13), receptions (11) and receiving yards (122) against the Seahawks.

Fans and fantasy managers of Joe Burrow and Lamar Jackson came out of Week 1 short on celebration and long on regret as the star QBs combined for 9.74 fantasy points. I come to bring hope. The kings of the North will top that number in the first quarter of their Week 2 meeting in Cincinnati and will ride a back-and-forth bonanza to a combined 52 fantasy points (shoutout Route 52 in Ohio).

The Titans had the league's No. 1 run defense and the worst pass defense last season. Chargers star running back Austin Ekeler is dealing with an ankle injury. All this should translate to Justin Herbert having way more than the 33 pass attempts he had in Week 1. Per Next Gen Stats, no defense has allowed more deep passing yards and touchdowns than the Titans since the start of the 2022 season, and Mike Williams leads the NFL in air yards per target since 2019 (min. 300 targets). Multiple 40-plus-yard receiving touchdowns are on tap for Williams this week.

The Texans have allowed the most rushing yards since the start of 2022, and they have allowed by far the most on outside runs. Do you know who had the most yards on outside rushes for the Colts in Week 1? Anthony Richardson. The rookie quarterback breaks two long runs against the Texans on his way to rushing for a buck fifty.

The Lions registered the first upset of the 2023 NFL season, beating the defending Super Bowl champs at Arrowhead, while the Seahawks looked dreadful at home in a blowout loss to the division-rival Rams. Even with extra time to prepare, the Lions get upset at home by the Seahawks as Geno Smith connects with Tyler Lockett and DK Metcalf for touchdowns and Kenneth Walker III rushes for 100 yards.
Full NFL Week 2 schedule
Thursday, September 14
Philadelphia Eagles 34, Minnesota Vikings 28
Sunday, September 17
Green Bay Packers at Atlanta Falcons (1 p.m. ET on FOX)
Las Vegas Raiders at Buffalo Bills (1 p.m. ET on CBS)
Baltimore Ravens at Cincinnati Bengals (1 p.m. ET on CBS)
Seattle Seahawks at Detroit Lions (1 p.m. ET on FOX)
Indianapolis Colts at Houston Texans (1 p.m. ET on FOX)
Kansas City Chiefs at Jacksonville Jaguars (1 p.m. ET on CBS)
Chicago Bears at Tampa Bay Buccaneers (1 p.m. ET on FOX)
Los Angeles Chargers at Tennessee Titans (1 p.m. ET on CBS)
New York Giants at Arizona Cardinals (4:05 p.m. ET on FOX)
San Francisco 49ers at Los Angeles Rams (4:05 p.m. ET on FOX)
New York Jets at Dallas Cowboys (4:25 p.m. ET on CBS)
Washington Commanders at Denver Broncos (4:25 p.m. ET on CBS)
Miami Dolphins at New England Patriots (8:20 p.m. ET on NBC/Telemundo/Universo)
Monday, September 18
New Orleans Saints at Carolina Panthers (7:15 p.m. ET on ESPN/ESPN Deportes)
Cleveland Browns at Pittsburgh Steelers (8:15 p.m. ET on ABC/ESPN+)
Source: Read Full Article