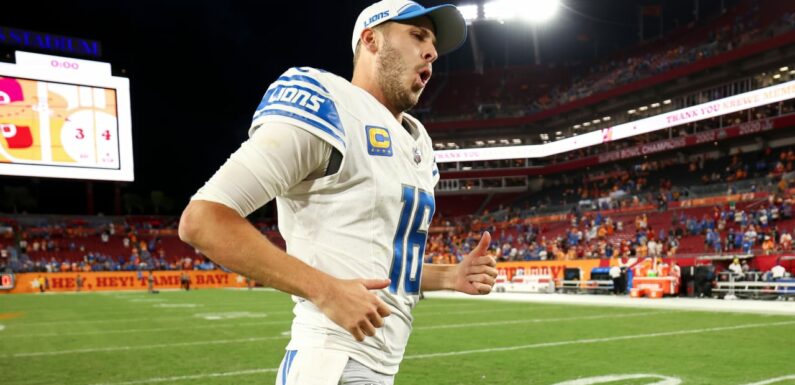 Who were the NFL's top stars in Week 6? Each Wednesday the league unveils its weekly honor roll. See who the Players of the Week are below.
AFC Offensive Player of the Week

Nobody's slowing down the Dolphins or Mostert. The veteran running back had another prolific Sunday, posting 132 scrimmage yards to go with three total touchdowns in Miami's 42-21 win over the Carolina Panthers. Mostert had 115 rushing yards and two scores on the ground, while chipping in three catches for 17 yards, including a 3-yard TD to get the Fins on the board.
NFC Offensive Player of the Week

Goff continued his stellar 2023 campaign and, unsurprisingly, so too did the NFC North-leading Detroit Lions, who triumphed over the Tampa Bay Buccaneers, 20-6, on Sunday. Goff was 30 of 44 for 353 yards, two touchdowns and zero interceptions for a 107.5 rating.
AFC Defensive Player of the Week

Cashman was all over the field in the Houston Texans' 20-13 win over the New Orleans Saints. The linebacker turned in 15 tackles to go with two pass breakups and two tackles for loss as Houston allowed just one touchdown.
NFC Defensive Player of the Week

Many expected an offensive shootout in the NFC North clash between the Minnesota Vikings and Chicago Bears, but it proved to be a defensive battle. Nobody came up bigger than Hicks, whose 42-yard fumble return for a touchdown stood as the game-winning score in the Vikings' 19-13 victory. In addition to his fumble recovery, Hicks turned in 10 tackles and an interception.
AFC Special Teams Player of the Week

Defense led the way in the Cleveland Browns' 19-17 upset of the San Francisco 49ers on Sunday, but special teams played a massive role, as well. Hopkins led the way in that department, providing 13 points to Cleveland's cause, including a game-winning 29-yard field goal. All told, Hopkins had four field goals in five attempts despite the rainy conditions, including a 50-yard boot, and added an extra point.
NFC Special Teams Player of the Week

Crowder was the catalyst for the Washington Commanders' 24-16 win over the Atlanta Falcons on Sunday. With Washington trailing early, Crowder burst loose for a 61-yard punt return to the Atlanta 11-yard line. Three plays later, the Commanders took a lead they wouldn't relinquish. It was Crowder's only return of the game, but it loomed huge.
Source: Read Full Article